Spartacus: War Of The Damned Will Be The Final Season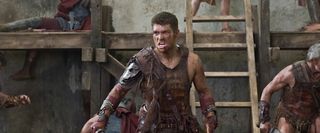 What a bittersweet way to start the week. While we still have months and months to wait for the return of Spartacus for its third season, the series' fourth installment now has a title! And it's a good one. Following last season's Spartacus: Vengeance, is Season 3, officially titled (drumroll please): Spartacus: War of the Damned. Pretty ominous sounding! The title is the sweet news. The bitter part is that War of the Damned will be the conclusion of the saga. Say it aint so!
Starz made the official announcement today, announcing the title and stating that the 10-episode season, which will premiere January 2013, will be the conclusion of the saga.
While it's sad news to learn that we only have one more season left of Spartacus, I'm going to try to be optimistic about this, as it sounds like the decision came from DeKnight and the other people involved in the show. At least, that's how it's being announced. Whether or not that's actually or fully the case, the writers know it's the last season and at the very least, will be able to shape War of the Damned as a conclusion to the series, so we'll have some proper closure. Still, it's going to be very sad to see the show go as it's become one of my favorite dramas on television.
Here's the information Starz released on Spartacus: War of the Damned:
It sounds like it's all building up to something big, and with the series' conclusion in mind, we might be able to expect something truly glorious from Spartacus come January.
Your Daily Blend of Entertainment News
Thank you for signing up to CinemaBlend. You will receive a verification email shortly.
There was a problem. Please refresh the page and try again.