The New Star Trek May Feature A Classic Trek Actor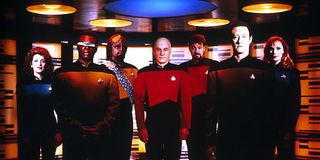 Not much is yet known about the long-rumored and now officially upcoming new Star Trek series, but casting talks are evidently underway. According to one actor who would be a familiar face to the franchise, he's already on the short casting list. Tony Todd may not exactly be a William Shatner or a Patrick Stewart, be he did appear in all of the Star Trek shows to air in the 1990s. Adding him to the cast of the 2017 series could be a fun bit of trivia.
Tony Todd revealed the news that he's on a short list for the CBS show during a chat with the horror-themed podcast MORTIS. He also mentioned that he's not entirely clear on how the CBS All Access streaming service will work, but considering that he doesn't expect an official cast for Trek to be nailed down until the fourth quarter of the year, he'll have plenty of time to figure out the kinks of All Access if he makes the cut.
Todd had guest stints on three of the shows in the Star Trek franchise: The Next Generation, Deep Space Nine, and Voyager. His most memorable role was as Kurn, the brother to Worf in The Next Generation and Deep Space Nine. As Kurn was a Klingon and required Todd to be covered in makeup and prosthetics, Todd was able to also take on the role of an older Jake Sisko in another appearance on Deep Space Nine. On Voyager, he once again found himself covered in concealments as the Alpha Hirogen.
Todd's extensive experience in the Trek universe without being tied down to the role of a major character means that he may be the perfect man to help the new series get off the ground in 2017. He clearly has the skills to play an alien under prosthetics as well as a human, so there's really no limit to what type of role he may be suited for.
If Tony Todd does return to the franchise, he won't be the only alum to do so. Showrunner Bryan Fuller started his career in the Star Trek universe, writing for Deep Space Nine and Voyager, where he worked his way up from freelance writer to staff writer to co-producer. Fuller will be joined by Alex Kurtzman, who co-wrote the two most recent big screen ventures of Star Trek and signed on to co-write the third.
CBS All Access will be a new avenue, however. Although regular cable subscribers will get to see the premiere episode of the new series, subsequent episodes will be exclusive to the streaming service. For $5.99 per month, subscribers have access to plenty of past and current CBS shows. Star Trek being original to All Access may boost subscribers significantly.
Star Trek fans don't need to rush to subscribe just yet. The show won't be released onto CBS All Access until 2017, so there's still quite a wait. Still, news that Tony Todd is in the running for a spot on the cast promises that progress is being made, and so we should definitely be excited.
Resident of One Chicago, Bachelor Nation, and Cleveland. Has opinions about crossovers, Star Wars, and superheroes. Will not time travel.
Your Daily Blend of Entertainment News
Thank you for signing up to CinemaBlend. You will receive a verification email shortly.
There was a problem. Please refresh the page and try again.