Stephen Colbert Explains Exactly Why Daft Punk Missed Last Week's Show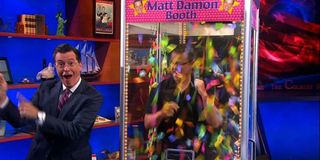 When Daft Punk didn't appear on The Colbert Report last week, it was a bit of a disaster. The famous French duo was forced to cancel at the very last minute, thanks to MTV getting in a tizzy about the appearance. Viacom forced The Colbert Show to cancel the appearance on MTV's sister network, Comedy Central, citing the fact that Daft Punk was scheduled to appear at the MTV Video Music Awards as the big problem. All of this was explained by Stephen Colbert when the group didn't show up last week, but now that the man has spoken a little further on the matter, it almost seems as if the appearance was rife with problems from the start.
It was Colbert's team who initially asked Daft Punk to appear on the show and it didn't turn out the way the veteran TV host had hoped. He recently popped up on an episode of The Paul Mercurio Show podcast to talk about a whole host of things—Daft Punk's mischeduling included. You can tell throughout the podcast that Colbert's trying to maintain a rational perspective about the whole incident, but you can equally tell that the ordeal was a big pain in the ass.
Initially, the "Get Lucky" guys seemed extremely excited to come on to the show, with Colbert graciously noting they were fans and that helped Comedy Central to book the duo. Then, weird little things started happening. The band didn't want to perform. They didn't want to talk. Other troubles also arose.
Eventually, Colbert says he came up with the workaround the show eventually employed, which featured the talk host dancing with a bunch of his celebrity friends to "Get Lucky," and even popping on to the sets of famous shows like America's Got Talent and Late Night with Jimmy Fallon. Watching Jeff Bridges wiggle and Matt Damon dance from within a booth is totally worth it and was a great way to save face in light of getting "Daft Punk'd."
Colbert also says that the challenge was interesting, and his team was able to come up with an agreeable way to get Daft Punk to work out on the show without talking or performing. That's when The Colbert Report realized the band was set to perform at the MTV Video Music Awards. At first, this didn't seem like a major issue, but Viacom had the last word and the powers that be said that MTV had the rights to Daft Punk, whatever that really means. If you want to hear about the whole long and tangled narrative, you can check out the full podcast, below. The Daft Punk talk starts around the 24-minute mark.
Amazing Race & Top Chef superfan with a pinch of Disney fairy dust thrown in. If you've created a rom-com I've probably watched it.