Streaming Watch: 12 Great TV Shows Currently Available On Netflix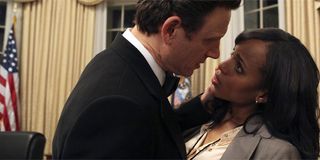 It's at this point in the summer that you're either too busy with summer fun to have time for television, or you're sunburnt and sick of barbecue and looking for some alone time, just you and your Netflix. The thing is, Netflix is like a virtual buffet. The thought of feasting on all of the goodies is exciting, but a little bit overwhelming. So we're making it a little bit easier for you in suggesting some great series that are currently available on Netflix. What's more, they've only aired three seasons or less, which means if you budget your time right, you could be able to get caught up on the show before the fall.
From animated comedies to apocalyptic mayhem, Netflix really does have a little something for everyone! Here's a dozen great shows to consider, in no particular order.
In case you haven't heard, Netflix is offering up its own original content, and this non-network came to play. From Weeds creator Orange is the New Black and loosely based on Piper Kerman's memoir, the dramedy series' first season introduces us to Taylor Schilling's Piper Chapman, a woman living a comfortable life in Brooklyn when her past comes back to haunt her, as she's convicted of a crime she committed a decade ago when she was in a relationship with Alex (Laura Prepon), a drug-trafficker who's doing time of her own. The series follows Piper as she acclimates herself to prison life and attempts to come to grips with her situation. It's just one year, right? How rough could it be? As the first season demonstrates, pretty rough, but what works so well about Orange is the New Black is the combination of humor and some great emotional moments. Orange lingers in dark humor, teetering toward grittiness without actually crossing that line, which allows the tone to stay relatively light, at least by comparison to other prison-set series. And did we mention the cast is great? In addition to Schilling and Prepon, the series also stars Kate Mulgrew, Jason Biggs, Taryn Manning, Natasha Lyonne and Michelle Hurst. Watch the first few episodes to get a taste of the humor and drama.
The first season hits a bit of a lull toward the middle, but things pick up as Season 1 draws to a close, with a finale that will leave you wanting more. And good news, Season 2 is already a go!
There seems to be an epidemic of serial killer dramas on the small screen but The Fall is one you definitely don't want to miss. And besides, when hasn't there been too many cop centric shows on TV? The BBC (Two) series, just finishing its run on BBC America, follows Gillian Anderson's Detective Superintendent Stella Gibson who is brought to Belfast to help crack a particularly difficult murder investigation. Her character is wonderful to watch - smart, sexy and (coldly) calculating - but what makes The Fall extra fascinating is that the drama spends an equal amount of time with its incredibly complex serial killer played by Jamie Dornan.
We've all seen a police hunt before but watching him select and stalk his prey while balancing a home life that consists of a wife and two kids (look out for that daughter) is incredibly compelling. In a way, the leads are two sides of the same coin with Anderson and Dornan delivering mesmerizing performances while they play the not so typical cat and mouse game. There's also a subplot involving police corruption (and a few familiar faces from Game of Thrones) but the leading duo are definitely the reason to begin streaming. And at only five episodes, it's not just a riveting take on a tired genre, it's also a very quick catch-up before the second season.
With all the accolades it's been receiving recently, you've probably at least heard of the New Zealand-set, missing-child miniseries Top of the Lake. The BBC (Two), UKTV and Sundance Channel international co-production was nominated for four Emmys (Outstanding Miniseries or Movie, Outstanding Lead Actress In A Miniseries or Movie, Outstanding Directing For A Miniseries or Movie and Outstanding Writing For A Miniseries or Movie), however, award nods aren't always reason enough to watch something. Looking at you, Homeland Season 2. Top of the Lake isn't only deserving of the recognition but also worth your time, especially since the entire run is over in just seven parts.
Co-created by Gerard Lee and Academy Award winner Jane Campion (the latter also directing a few episodes along with Garth Davis), Top of the Lake stars Elizabeth Moss (who should win all the awards) as Detective Robin Griffin who returns to her small home town to investigate the pregnancy and then disappearance of a 12-year-old girl. The visually stunning miniseries (with one of the all-time great title sequences) features an intricate and engaging narrative as well as taking the time to study its fascinating characters played by Moss, Peter Mullan (who's wonderful as always), Holly Hunter, David Wenham, Thomas M. Wright and Jacqueline Joe as the (sometimes) missing child. Top of the Lake offers a refreshingly unique point of view that's unlike any other police series on TV. Make the trip.
It's one of the shows people can't stop talking about and for good reason. In Shonda Rhimes' Scandal, Kerry Washington shines as the beautiful and confident Olivia Pope, a fixer-for-hire in Washington DC. The series blends some procedural elements with more serialized drama as Olivia and her team of "gladiators" tackle scandals from their high-profile clientele, while dealing with their own personal issues. In most cases, the scandals they're trying to manage pale by comparison to the ones they're dealing with in their own personal lives. For Olivia, that includes a steamy, secret relationship with the President of the United States, played by Tony Goldwyn. Will they? Won't they? Yes and yes! Scandal is an indulgence for sure, but it's a good one, and it lives up to the hype. The first season of Scandal is only seven episodes, which makes it a perfect choice if you're looking to sample a great series without a huge time commitment.
Of course, if you love Season 1, you'll want to watch Season 2 and that one's not on Netflix yet, but it is available on Hulu Plus, and well worth watching if you got hooked by the first season. Season 3 is set to premiere on ABC this fall. UPDATE: Season 2 has now been added to Netflix!
Is Revolution more awesome or frustrating? We can't decide. The one thing it is, without question, is incredibly addictive. Its twenty episode first season offered fans a torrent of crazy storylines, gun fights, evil plots and surprise deaths. The basic premise follows a team of patriots (Billy Burke, Zak Orth, Tracy Spiridakos, Elizabeth Mitchell) who struggle to find happiness, safety and answers in a world where the electricity has gone out. With the government overthrown and loosely organized militias running the United States, it's only vaguely similar to the world we're used to, but the emotions behind the fight to get it all back will surely ring familiar.
Shows like Revolution can't accurately be judged until fans know exactly where they're going, until fans start learning a healthy percentage of all those secrets the show has been teasing. At this point, it's still unclear where everyone involved would like to take fans, but with good acting, interesting storylines and the occasional laugh, the show has a nice little chaotic energy to it. So, pop in the first episode and see whether you get reeled in. With only twenty episodes, you can easily be caught up by the time Season 2 starts unloading more awesome/ frustrating riddles.
House Of Cards is a lot like Spartacus in that it takes at least a few episodes to understand and appreciate the show's pacing, tone and propensity to break the fourth wall. It really makes a viewer wonder whether continuing is worthwhile. It is. The Netflix original's first season is among the best we've gotten in years, and apparently, the fine people who vote for Emmy nominations agree.
At its core, the show follows a US Representative named Francis J. Underwood who is willing to play every possible angle for personal gain (Kevin Spacey), his equally cold wife who runs a non-profit (Robin Wright) and a reporter who desperately wants to break stories and gain recognition (Kate Mara). Together, alongside an extensive ring of supporting characters, they scheme, they fuck and they sit back and watch their carefully constructed dominos spiral down one at a time. Netflix has refused to comment on exactly how many people watched House of Cards initial block of thirteen episodes, but it was enough to make it the most streamed show in the service's history and to warrant a second season, which is currently in production.
When Revenge burst on to the scene, ABC's drama offered complex female characters blurring the lines between high society cattiness and serious manipulation. Key to the plot in the series is Emily Thorne (Emily VanCamp), a young woman whose father was framed as a terrorist and later lost his life to a core group of upper class individuals willing to squash a man to maintain an empire. Emily has grown up angry and has trained to take down the people who have hurt her family the most. What she doesn't calculate for is scheming socialite Victoria Grayson's own game.
Stowe and VanCamp don't always get a ton of screen time together, but each of their characters is cunning and selfish in her own way, leading Revenge to be one of the most soapy and delicious hours of television each week. Due to its 22 episode count each season, certain episodes can be more exciting than others, but overall, the cliffhanger aspect of the series is worth a Netflix perusal, provided you have the time and motive to power through new episodes before Revenge's third season hits the schedule on September 29. Netflix only has the first season, but the second season is available on Hulu Plus.
On the lighter side of the streaming recommendations is Wilfred. Well, that might not be the best description for FX's comedy about a troubled young man named Ryan (played to perfection by Elijah Wood) who starts up a friendship with his neighbor's dog after a failed suicide attempt. The twist is that he doesn't see a normal pooch like everybody else, Ryan sees Wilfred as a man in a dog suit. And Jason Gann, co-creator of this and the Australian original, is a marvel in the role that requires him to play many different characters (depending on his human pal's needs) including, obviously, a canine with canine impulses.
The 'dogisms' are hilarious but the real reasons to watch the complex comedy are its exquisite cinematography and existential pondering. But perhaps the most important reason to catch up on Wilfred (as soon as you can) is to keep the bizarre, beautiful and funny series from getting put down in its prime. According to executive producer David Zuckerman, Wilfred is flirting with cancellation so be sure to stream the first two seasons, catch up on Season 3 OnDemand and then tune in for Episode 11, "Stagnation," next Thursday at 10 p.m. ET on FX to help keep an original and inventive breed of comedy on the air. There are way too few.
After a successful run on BBC1, Call the Midwife nabbed a U.S. release in PBS' schedule, and if you missed this British gem of an import, Netflix has it streaming right now. The show stars Jessica Raine in what is a smart, spunky series about midwifery in post-WWII London neighborhoods. Social issues and costumes from the fifties abound, but the most important moments of the series highlight strong bonds between young girls finding their footing in the world, new and soon-to-be mothers, and slew of older nuns filled with wisdom.
Helping women in the poorly financed Poplar District of East London is not an easy task. The characters in Call the Midwife who have taken on the task need perseverance and a sense of humor and it's these two traits that make the series so dear to viewers. If you are a fan of dramas that show humanity at its best and at its worst, that offers complicated personalities and rich storylines, Call the Midwife is a great program to delve into. Plus, since the show is an import, there's only fourteen episodes and a Christmas special to get through before it returns to the schedule for Season 3.
For more than a decade, Fox has been trying to find three great comedies to run alongside The Simpsons. Between King Of The Hill, Family Guy and to a far lesser extent American Dad, they've had some success in that pursuit, but for the most part, fans have been treated to single seasons of a lot of forgettable programs like Sit Down, Shut Up and Allen Gregory. Prior to offbeat comedy Bob's Burgers' premiere back in 2010, it was generally assumed the program would find itself in the latter category, but much to everyone's delight, it turns out it's actually pretty damn funny.
Featuring voicework by H Jon Benjamin, Eugene Mirman and Kristen Schaal, Bob's Burgers follows the wacky antics of the Belcher family. Dad owns a burger stand. Mom drinks and tries to solve everyone's problems, and the couple's three children scheme like they're paid to, especially the youngest Louise who runs over the rest of her family members like a manipulative train. Thus far, Fox has given us three seasons, the first two of which are on Netflix. Considering they're only a half hour, there is probably just enough time to plow your way through before Season 4 premieres.
Longmire offers plenty of western motifs, not in the historical sense but shown through the pace of life and the lonesome work its law enforcement unit accomplishes over a vast space. Sheriff Walt Longmire (Robert Taylor) is undoubtedly a cowboy, sporting a ten-gallon hat and capable of lassoing victims when the occasion arises. He doesn't carry a cell phone. He drives an old truck. He has the slow speech patterns of a careful thinker coupled with intimidating height. He's fun to watch and his character, coupled with a setting and social issues that are not common to television, make A&E's drama worth a perusal before fall TV premieres run rampant.
Longmire is currently gearing up for a Season 2 finale on the cable network in the States. A&E has yet to weigh in on a Season 3 renewal for the series, but the episodes the show has covered so far have include reservations politics, murder mysteries, stalkers, and enough rural crimes to intrigue those who like procedurals with a bit of a twist. Anyone who likes crime dramas and prefers those with a large pool of possible suspects will no doubt find Longmire among the best. Give an episode a shot and see if it doesn't suck you in for a season or two
Given its huge ratings on AMC, it's safe to say The Walking Dead has already found plenty of viewers, between fans of Robert Kirkman's comic book series, and zombie enthusiasts who tuned in to see the dead rise and cause mayhem on humanity. Season 1 brings the group together, introducing us to Rick (Andrew Lincoln), a former sheriff's deputy who wakes up weeks after getting shot to find the world drastically changed. In his search for his wife and son, he eventually comes to meet other survivors trying to avoid the zombies that plague the world. Beneath the gore, however, The Walking Dead is - at its core - a series about survival. Beyond that, it regularly questions its characters' purposes in this post-zombie apocalyptic world, beyond merely trying to get through he day without being bitten. TWD is a great series to sample because the first season is only six episodes long. If you enjoy those six, move on to Season 2. But be warned, the second season isn't consistently good, but it does get better in its second half.
Netflix has the first two seasons, but if you want to watch Season 3 before the series returns this fall, you'll have to shell out for the season on Amazon, or else wait for Netflix to add it.
Your Daily Blend of Entertainment News
Enthusiastic about Clue, case-of-the-week mysteries, a great wrestling promo and cookies at Disney World. Less enthusiastic about the pricing structure of cable, loud noises and Tuesdays.