T.J. Miller Cast In Fox's Comedy The Goodwin Games, Replacing Jake Lacy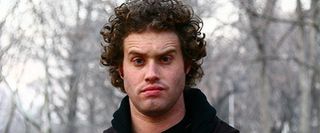 Fox has re-cast one of the leading roles in its new half-hour comedy The Goodwin Games. Comedian T.J. Miller will take over the role played by Jake Lacy in the pilot, and will join Scott Foley and Becki Newton as a trio of siblings forced to come together again to get their hands on an inheritance from their father.
Miller, who is hosting the new stand-up half-hour Mash-Up over at Comedy Central, has been brought in to take over the part after the original project he worked on for Fox, Little Brother, didn't go to series, says Deadline. Miller was apparently well-liked over there, and Fox wanted to find a place for him. There's no explanation as to why Jake Lacy didn't stay on in the role, but it's certainly good news for T.J. Miller.
The Goodwin Games is about three siblings whose father passes away and leaves them a fortune -- which they will only get their hands on if they play by his rules. The result is that the three are reunited, with Jimmy, the brother played by Miller, recently out of jail, and not for the first time. He's no hardened criminal, just someone who doesn't seem to have much in the way of impulse control, but he is described as being good-hearted underneath his petty-thief exterior. The series was created by How I Met Your Mother's Carter Bays, Craig Thomas, and Chris Harris.
In addition to his new Comedy Central role, Miller has appeared in Cloverfield and Our Idiot Brother. He also guested on Happy Endings and provided his voice for How to Train Your Dragon, which has a sequel in the works. It's his first lead role for a television series.
Your Daily Blend of Entertainment News
Thank you for signing up to CinemaBlend. You will receive a verification email shortly.
There was a problem. Please refresh the page and try again.