TV Recap: Entourage - Gotcha!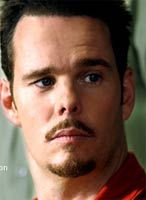 What started out as a one-night-stand between Vince and his hot agent, Amanda looks like it could turn into something more serious. In tonight's episode of 'Entourage,' titled "Gotcha!," Eric found out that Vince and Amanda relieved their sexual tension the old-fashioned way, Ari dealt with more of his insecurities when an old college friend came to visit and Drama got "Got" by fellow B-List celeb, Pauly Shore.
There is no awkwardness between Amanda and Vince after their hot one-night-tand. In fact, the two flirted unabashedly at a lunch meeting with Eric the next day. It didn't take long for Eric to realize what was going on with these two and predictably, he was pretty concerned about the situation. When he talked to Amanda about it over the phone, she brushed off his concerns and even went as far as to say she liked Vince. Meaning, whatever happens, happens. When Eric shared this information with Vince, he seemed pleased about it, actually considering her as dating-material despite the fact that she holds his career in her hands.
Vince has always been a laid back kind of guy so his nonchalance over the potential disaster he's about to embark upon isn't surprising but what is up with Amanda? She's been his agent for five minutes, hasn't actually gotten him a good role to play and yet she seems to think it might be a good idea to pursue a relationship with him? Sure, Vince is hot but isn't she at all worried about the potential consequences this could have on her role as his agent? Perhaps she thinks that getting into bed with him (literally) will make it easier to keep him around. Somehow I think this is going to backfire on her, big time.
Meanwhile, Pauly Shore asked Drama if he'd like to participate in a new show he's hosting called "Gotcha!" Like MTV's 'Punk'd,' Shore is doing his own version of the celebrity prank show. Drama agreed to it and was on the look out for Shore as he and Turtle headed out into the city. When Turtle attempts to pull into a parking space, another car comes out of nowhere and tries to grab the space. Drama insists that Turtle park in the spot but Turtle recognizes the other driver as Ultimate Fighting Champion, Chuck Liddell. He tries to convince Drama to let Liddell have the spot but Drama is convinced this is part of Shore's show. He gets out of the car and confronts Liddell, calling him a WWF wannabe. He's thinking there are cameras on him and acts all tough-guy with the UFC giant. Liddell becomes enraged but because his daughter is with him, he doesn't throw down with Drama.
Drama heads towards the store when a Girl Scout approaches him and asks him to buy a box of cookies for $200. Drama says no way so the girl starts screaming, as do her fellow Scouts. Drama freaks out and Shore shows up with the cameras chanting "You got 'Got'!" Drama realizes that the Liddell incident wasn't part of the show. He freaks out about it, thinking Liddell is going to come after him. When the guys get home there's a message on the machine from Liddell, telling Drama that he's going to kick his ass. Turtle attempts to resolve the situation by getting tickets to Liddell's "Chuck's Kids" benefit. He figures they can show up, Drama can apologize, show support for the cause and everything will be cool.
They head to the event and witness Liddell in the cage doing some serious damage to his opponent. After flooring the guy, Liddell spots Drama in the crowd and makes him get in the ring with him. Drama goes in there and apologizes in front of everyone (including "Chuck's Kids" which are a bunch of semi-reformed juvenile delinquents). After getting down on his knees and begging for forgiveness, Chuck tells Drama that he got "Got." The Girl Scouts thing was just a ploy to get Drama to take the Liddell incident seriously. After Pauly and the Girl Scouts come into the ring, chanting the "You got "Got"' chant, Drama looks temporarily confused and then severely sheepish. In typical Drama form, he gets over that within seconds and shouts out "Two pilots in one season!" For a B-list celeb, pretty much any exposure is good exposure.
And finally, insecure-Ari returns once again when his old college buddy, a once-loser-turned-millionaire, comes to visit with his beautiful, sweet fiancé. Ari has a hard time dealing with his friend's success, especially considering the guy made his millions through a website (Stamps.com). In the end, Ari gets really rude with them, making ridiculous comments about the fiance's behind. His friend sees it as typical frat-humor and blows it off but his fiancé is uncomfortable now. Mrs. Ari cools him down and the two end up making out on the couch after their guests leave, deciding to stay in a hotel. It was a completely pointless side-plot, seeing as we already know how insecure Ari is. I wont complain though because without these pointless side-plots, Ari wouldn't even be in the show. Then again, it's only a matter of time before the Amanda/Vince thing turns sour and Vince gets back together with Ari. In the meantime, I'll take the ridiculous Ari-side-plots over no Ari at all.
Kelly joined CinemaBlend as a freelance TV news writer in 2006 and went on to serve as the site's TV Editor before moving over to other roles on the site. At present, she's an Assistant Managing Editor who spends much of her time brainstorming and editing feature content on the site.
Your Daily Blend of Entertainment News
Thank you for signing up to CinemaBlend. You will receive a verification email shortly.
There was a problem. Please refresh the page and try again.