TV Recap: Greek - Hell Week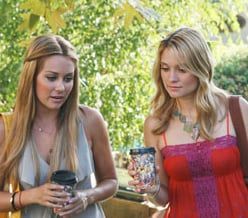 Tonight's season finale of Greek held a few surprises and what's more, some unanswered questions. Is Max passing on Cal-Tech to be with Casey? Will Rebecca really walk away from ZBZ? Is Calvin questioning whether or not he's cut out for the Omega Chi's? Did Rusty seriously eat three live goldfish? Well, we already know the answer to that last question but seriously Rusty – gross!
Everything the pledges have been working towards came to a head tonight as they endured hell week. Things weren't so bad for Calvin as Evan was favoring him above the other pledges. Rather than pouring a blender full of some chunky-nasty looking stuff on Calvin's back when he failed to make it through the fifty-pushup task, Evan declared that Calvin could clean one of the brother's sinks (where he does his "manscaping"). Evan then lead Calvin to the "honor room" which looks like a glorified game room to me and asked him to straighten it up instead.
After being left out of the muddy outdoor sleepover and put on fan-duty while the rest of the pledges were pruning the roses with their bare hands, Calvin finally spoke up to Evan, feeling that it was unfair that he was being treated better than the other guys. After that, Evan gave Calvin what he wanted, having him hold the Omega Chi book out in front of him for over three hours. So in the end, Calvin did earn his place alongside his brothers.
There were no mayonnaise potstickers on the menu for the Kappa Tau pledges. Instead, they got goldfish. The KT's presented each pledge with a live goldfish in a plastic beer cup. Now I know we were all thinking the guys were going to have to eat the goldfish but I definitely didn't think that Cappie would make them go through with it. Sure enough, he wasn't planning on asking them to drink down a glass of live fish but Rusty didn't wait for him to get to that. Instead, he chugged all three of the fish that Beaver gave him, declaring himself "done." That's when they explained that the fish were to be kept as pets. Strike one for Rusty.
It's never really been in question as to whether or not Rusty was going to make it through pledging. At least not to me anyway and I don't think Rusty ever questioned it but the threat of being washed out in the eleventh hour seemed to hang in the air as Rusty attempted not to botch his hell week tasks. After listing off some of Rusty's screwups throughout his pledge career, Cappie told Rusty that he needs to do something to prove that he's KT material. Rusty decided that he was going to break into the Omega Chi house and steal back the pledge paddle he used to whack Evan in the face with back at beginning of the year.
Evan spotted Rusty sneaking around their house and he quickly rallied the other Omega Chi guys to chase him out and down the street. Upon hearing Rusty's girlish scream, Cappie got the KT guys outside and they ran towards the Omega Chi guys in full force. The whole charge looked like a twisted college version of Braveheart, especially when the groups collided and they all started to pummel each other.
Evan grabbed the pledge paddle and slammed it into Rusty's face. Cappie responded to that by socking Evan in the mouth. Eventually the brawl broke up and Rusty succeeded in passing initiation. On a side-note, Calvin did not seem happy when Evan told him that he hit Rusty in the face with a paddle. It makes me wonder if Calvin's questioning whether or not he wants to stay with the Omega Chi's.
While all of the frat drama was taking place, Casey was trying to figure out what's going to happen with her and Max. Max got into Cal-Tech grad school, which is in California (and that's not California, Ohio). Meanwhile Casey got offered an internship in Washington with that politician woman she met during the nationals convention. They were supposed to have the summer to spend together before deciding whether or not they were going to try the long-distance thing once Max leaves for grad school but Casey decided that she can't keep making life decisions based on the guy she's with. So after a dream-conversation with The Hills star, LC and an actual conversation over a game of pool with Cappie, she decided to break up with Max.
Whether or not the break-up is going to stick remains to be seen as we saw Max call up a professor at Cal-Tech at the end of the episode. Perhaps he's not ready to see his relationship with Casey end. Though it seemed very evident that Cappie's waiting for another chance with Casey. We'll have to wait and see how things play out for Casey and Max when the show comes back.
And speaking of wait and see, the big cliffhanger of the night came when Frannie announced at the ZBZ initiation ceremony that she's starting her own sorority. She even rented a house, which helped make sense of the talk she had with Evan earlier about talking to a real estate person. Frannie's done with ZBZ and she's taking some of the girls with her to the new sorority, including most of the pledges who were just moments away from being initiated before Frannie made her grand announcement.
As Frannie was about to leave, she asked Rebecca (aka "Becks") if she was coming with her. From the way Frannie extended the invitation, she seemed sure that Rebecca was all set to go but the episode ended before we got to see Rebecca's response. Things aren't looking good though as Casey neglected to get Rebecca a big-sister/little-sister present earlier that week. Ashleigh came through by purchasing the gift on Casey's behalf, knowing that Casey was too wrapped up with the Max stuff to remember to do it. Rebecca saw right through that though so it wouldn't be all that surprising if she were to walk away from the ZBZ's, feeling that she might be better appreciated at Frannie's sorority.
The fate of ZBZ is up in the air at this point. With a new sorority forming and Frannie at the helm, it's clear that Ashleigh (and Casey) are going to have their hands full trying to regroup and keep the sorority's status up come next semester.
The only other notable thing that happened in the finale was Dale's departure. While Dale didn't have any major role to play in the episode, his farewell to Rusty was sweet and I'm glad to see they've agreed to room together for their sophomore year. They may not have much in common, what with Dale's super-Christian-ness and frequent use of the word "bottom" (in reference to one's butt) and Rusty's involvement in the Greek system but there's still a friendship there. Dale's funny and provides a good (if sometimes weird) outside perspective on the greek system. Plus he's a good influence on Rusty in a weird, geeky sort of way.
On an off-topic note, during the commercial break, ABC Family aired two "exclusive first looks" at the upcoming movie Twilight. If you're a hardcore Twilight fan, you might have already seen these clips before as they've been floating around the internet. The cafeteria scene that was shown can be viewed here.
Kelly joined CinemaBlend as a freelance TV news writer in 2006 and went on to serve as the site's TV Editor before moving over to other roles on the site. At present, she's an Assistant Managing Editor who spends much of her time brainstorming and editing feature content on the site.
Your Daily Blend of Entertainment News
Thank you for signing up to CinemaBlend. You will receive a verification email shortly.
There was a problem. Please refresh the page and try again.