TV Recap: Kitchen Nightmares - J. Willy's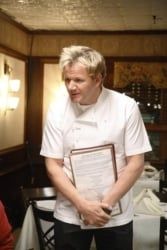 Holy burrito! I have never seen a more unappetizing burrito than the one they make at J. Willy's. Can somebody explain the slice of swiss cheese daintily placed on top? As I am an East Coast liberal elitist Marxist, I have never seen such a thing. However, I will also say that my boyfriend, who was born and raised in Indiana, home of this week's Nightmare, J. Willy's, didn't really understand that one either. Ditto for the pizza with the ranch dressing. Although, he wasn't quite as disgusted with the mountain o' cheese on the pulled pork sandwich. As Ramsay said, God bless Middle America.
So the main issue here is that the food obviously sucks. The secondary issue is that J. Willy's is run by three completely inept people. J. Willy himself is in charge of the day-to-day operations and is quite proud of himself for making the menu as automated (read: canned) as possible, so you can't screw it up. Tricia and Rick also co-own the restaurant, but they live three hours away, where they own another, no doubt equally horrifying restaurant.
This episode is kind of interesting because it's a little bit of a downgrade from the restaurants Ramsay usually helps. For instance, they don't even pretend to have a chef on staff; everybody in the kitchen is simply identified as a cook.
Ramsay immediately lets the staff know that the problem with the food is rooted in the fact that nothing is fresh. Everything is either frozen or comes out of a can and is basically mixed together into a generic, sloppy mess. Once again, I have to mention the Ranch dressing they used as pizza sauce. My cholesterol shot up 20 points just watching that.
Tricia and Rick are really kind of awkward and ineffectual, and immediately try to place the blame on John, since he is in charge of the day-to-day operations. Ordinarily, I would agree with this strategy. However, the problems that J. Willy's has are not day-to-day problems; they are at the core of the way the choose to do business, and that is something that the other owners are absolutely responsible for.
So Ramsay does what Ramsay does, and revamps J.Willy's menu. The first thing he does is give them a homemade burger special with fresh-cut French fries. Naturally, everybody who comes into the restaurant orders that, causing a complete meltdown in the kitchen. Basically, the cooks have trouble keeping everybody's orders straight, resulting in people getting burgers that are way under- or over-cooked.
After several wrong-orders get sent back, the cooks realize their out of all the ingredients for the special, but instead of telling their already-pissed customers this, they serve them frozen ground beef on sourdough bread and frozen French fries, which… isn't the special. One diner gets so frustrated that she even ends up in tears.
Ramsay, of course, is pretty disgusted with everyone involved and almost gives up on the entire process. But, that would mean that he spent two days in South Bend for nothing, so he soldiers on.
Ramsay's team comes in that night to revamp the restaurant, but you can tell their heart isn't in it. In fact, the only changes I really notice are the addition of a brick façade on the wall and new carpeting, which was desperately needed. He also cuts the menu in half and creates a signature barbeque sauce for the restaurant.
The little epilogue at the end says that J. Willy's continued to thrive after Ramsay's intervention, even winning a barbeque competition. Old habits die hard, however, so I would be surprised to find that J. Willy's stuck to Ramsay's menu and stayed successful.
Your Daily Blend of Entertainment News