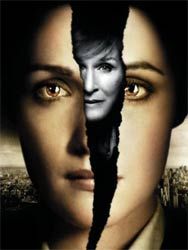 Created by: Todd A. Kessler, Daniel Zelman and Glenn Kessler.
Premieres: Tuesday, July 24th at 10:00 p.m. on FX
If there's one thing the FX Network excels at with their original programming, its gray areas. On shows like 'Rescue Me' and 'The Shield,' the heroes of the story often engage in morally questionable behavior. The shows present a grittier view of the world, which in some ways isolates them from other dramas. Some people can't handle that and prefer to stick to shows that don't expose the flaws of the protagonists so openly. I am not one of those people.
I had the pleasure of viewing the pilot episode of FX's new series, 'Damages' tonight and the only word I can think to describe it is "fantastic."
I'm going to be delicate with the details of the content of the first episode because this is definitely the kind of show you'll want to watch for yourself without fully knowing what to expect. That said, here is the character and plot synopsis with some mild spoilers just to give you an idea of what the series is all about.
'Damages' is a legal thriller, which focuses on a law firm that handles large class action lawsuits. Think Erin Brokovich except without the big-busted legal assistant and friendly old-man attorney. "Hewes & Associates" is a high profile law firm that handles cases involving large groups of clients who might be entitled to huge sums of money from a company or corporation that has somehow wronged them. We're talking hundreds of millions of dollars in some cases. The firm has a reputation for success and intimidation.
The characters:
Patty Hewes (played by Glenn Close) – Patty is an attorney who excels at class action lawsuits. When we're introduced to her early in the episode, the opposing counsel on one of her cases calls her a "hard-dick bitch." I'm not sure I would've phrased it that way but it's hard to argue with the guy. This woman is almost all business. We do see a more personal side to her but for the most part, she is her job and she's good at it. Similar to Victor Garber's role in 'Justice,' Hewes is the kind of attorney who knows how to manipulate people to get what she wants.
It needs to be said that Glenn Close is phenomenal in this role. Emmy-worthy. She exudes an air of confidence and authority with every word she speaks, giving her character enough charisma to make viewers understand why Hewes is so successful as an attorney.
Ellen Parsons (played by Rose Byrne) – Ellen is a young, optimistic attorney, fresh out of law school. We learn early on that her family is working class and she is essentially a diamond in the rough. Though she's always been an over-achiever, she does make her family and fiancé a priority in her life. That might have to change now that she's Hewes' new associate. While Ellen comes across as a nice girl, she is by no means, naïve. She makes her own decisions and appears to have a good knack at reading people.
Arthur Frobisher (played by Ted Danson) – Arthur was accused of dumping stock and selling his company down the river. Hewes is representing his employees who were left with nothing and are now involved in a class action lawsuit against Frobisher. Frobisher is the competitive type who built his company from the ground up. He swears he's innocent but that definitely remains to be seen. As of right now, we're meant to believe he's a bad guy but this is FX and things are not always as cut and dry as they might seem on the surface.
Tom Shayes – (played by Tate Donovan) – Shayes is Hewes' senior advisor and most trusted ally. It was hard to get a good read on him based on the first episode. He appears to be a good person but I have a feeling there's more than meets the eye with this guy. Donovan has always had that nice-guy demeanor which makes him perfect for this role but I'd be very interested to see how he performs if Shayes turns out to have a dark side.
The supporting characters include:
Ray Fiske (played by Zeljko Ivanek) – Fiske is Frobisher's attorney.
Katie Connor (played by Anastasia Griffith) – Katie is Ellen's best friend and fiancé's sister.
David Connor (played by Noah Bean) – David is Ellen's fiancé. He is a first-year surgical intern who seems to be very supportive of Ellen's career goals.
In terms of what you can expect from this series, based on the pilot, I'd say that like every other FX show, there will be swearing, violence and a bit of sex here and there. There was a sex scene in this episode but unlike the frantic humping you might see in FX's 'Rescue Me,' the dirty scene in 'Damages' was surprisingly not so dirty. The scene really focused on the intimacy of the act more than anything. This is a rarity in TV shows that include such scenes so I thought it should be mentioned.
'Damages' takes a darker look at the cutthroat world of litigation. Unlike other legal dramas, this one seems to focus less on the case at hand and more on the people involved. The plot is definitely driven by the work that these people do but the show doesn't lose itself in the legal aspect of the story. The complexity of the characters mixed with a sizable dose of suspense and a plot that is intelligent but not hard to follow are all part of why I think 'Damages' might just be the best new show of the summer.
There is so much more to the pilot episode than what I mentioned above but again, I don't want to spoil it for you. I will just say that while I was watching, I thought I had a good sense of the direction the story was headed in. I was pleasantly surprised by how wrong I was.
Kelly joined CinemaBlend as a freelance TV news writer in 2006 and went on to serve as the site's TV Editor before moving over to other roles on the site. At present, she's an Assistant Managing Editor who spends much of her time brainstorming and editing feature content on the site.
Your Daily Blend of Entertainment News
Thank you for signing up to CinemaBlend. You will receive a verification email shortly.
There was a problem. Please refresh the page and try again.