TV Review: Reunited: The Real World Las Vegas – Recycling the Trash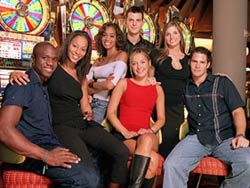 In real life, recycling trash instead of throwing it out permanently is always a good thing for the environment, but for reality television, which usually doesn't imitate life, recycling the trash is not necessarily a good thing. "The Real World Las Vegas" was a significant moment for "The Real World" series because it marked a bridge from the classic, character-driven material of the pre-Vegas seasons into the non-stop drunken shadiness that has driven nearly all of the post-Vegas seasons. Reuniting the infamous Vegas cast for a six-episode series provides "The Real World" and its viewers a strange way to self-reflect on the salacious transformation the show has been through over the past five years, while attempting to pass off the suggestion that the seven roommates have reformed their salacious ways as truth. It may have been a more productive idea to put the roommates together for a collected therapy session, Brynn's husband and Trishelle's reality-TV agent included.
The fact that all seven roommates had the necessary free time to even shoot the theme song for the "Reunited" series, let alone live with each other again, must be some sort of proof that none of them have really changed. Alton and Irulan, who stayed together for a few years after they left Vegas, are both now in other supposedly committed relationships, while Brynn has married Austin and they now have two children. Mother Brynn shows commendable restraint in her new un-party-like habits, but a no-longer estranged Arissa, who lived with Alton and Irulan after the show four years ago, brings back old drama with her insistence that Alton was the one who made a move on her. The drama in "Reunited," like the roommates themselves and Trishelle's career as a reality-TV star, is simply tired. Frank is just about as unmemorable as he was the first time around and Steven minus Brynn's fork is like Britney minus K-Fed.
The inquisitive cringing induced by "The Real World Las Vegas" when it first aired is only achieved in "Reunited" in few, select moments. Watching Trishelle spend a potentially eventful night out quietly in bed and Brynn reminisce about her gloriously slutty past as the relic it has become is really quite tragic. There is a kind of sentimentality or even a nostalgia that results from watching "Reunited," but it's not the black-and-white photo-album kind. It's more like the where-is-my-Real-World-Las-Vegas-marathon kind.
Your Daily Blend of Entertainment News