Two And A Half Men Will End On This Date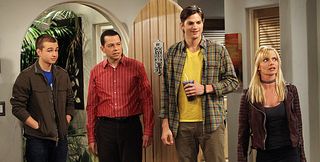 CBS's Two and a Half-Men is finally coming to an end. After 12 seasons, the long running raunchy sitcom will finish with a one hour final farewell slated to be on Thursday February 19th, a full 262 episodes into Men's historic run. The series became a staple under the guidance of star Charlie Sheen and 80's mainstay Jon Cryer, with the tutelage of show runner Chuck Lorre who acted as producer on the series. The show garnered a total of 37 Emmy Award nominations during its run, with Jon Cryer nabbing two statuettes for his own mantle. Despite production shake ups and multiple time slots, Two and a Half Men stood the test of time for CBS and company.
News of the show's imminent finale first came from Insidetv.ew and did not seem to cause much shock amongst industry insiders. Following star Charlie Sheen's very public freak out in 2011, things didn't look good for the stalwart sitcom, but replacing him with Ashton Kutcher got them across the finish line. Soon after Sheen's departure, Kutcher and Cryer then lost the "Half" of the show when the kid, longtime co-star Angus T. Jones, made overwhelmingly disparaging comments on camera about the long running program. So long, Jake.
Still, the ratings were there and with solid lead-ins, people forgot about Charlie and Jake in good time. Initially pundits did not think that the production could survive without Sheen, who basically played himself as a hard drinking, hooker loving louse that occasionally wrote a TV jingle to pay for his affluent life style. But CBS found a way and managed to skew younger with Kutcher taking Sheen's place.
Sure there's some hope that Charlie will return in the final installment, but let's not hold our breath. It is a longshot at best to see Sheen eat crow and return to his old cash cow.
After a dozen years, Two and a Half Men has finally figured out when to quit and will do so with whatever large breasted co-eds that they can squeeze in to the finale. The show will live on in syndication, where fans can relive the early days when the series was just two bro's in their 30's trying to raise a kid.
After 12 seasons, Men will end with a one-hour closer on Thursday, Feb. 19 at 9 p.m. Taking Two and a Half Men's vacant time-slot is CBS's long gestating Odd Couple reboot toplined by Friends star Matthew Perry.
Your Daily Blend of Entertainment News