Uh Oh. Game Of Thrones Is Going To Kill Off A Lot Of Characters In Season 5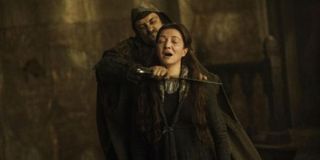 It's not exactly surprising news to hear that HBO's Game of Thrones plans to kill off characters in the newest season. It's a frequent event that we've become fairly used to over the seasons, and the show does not hold back in quickly chopping off heads, or murdering an entire wedding party. But, apparently this season might actually amp up the shock value as Sophie Turner confirms that Season 5 is taking things to a whole new level.
In a recent interview with The Huffington Post, Sophie Turner, who portrays the innocent and graceful Sansa Stark, teased what was to come in the upcoming season. And Turner, who has been a main character in the series since Season 1 knows exactly how to keep her fans at the edge of their seats. She said:
More shocking than the Red Wedding. I didn't even know that phrase existed in the English language. For those of you who don't know what that is referencing, beware of spoilers ahead, but The Red Wedding was by far the most shocking moment to occur in the series. Even fans who've read the books and knew what was going to happen, still cringed at the sight of Robb Stark's pregnant wife stabbed repeatedly in the stomach before the grand massacre occurred. We saw some of our favorite and more dominant characters of the series killed off in an instance, completely demolishing what was one of the primary storylines for the first three seasons. And what made it more shocking (especially for those who didn't see it coming) was that it reminded us not to ever get too attached to a beloved character.
It wasn't easy to swallow, as Arya was outside hoping for a long-awaited reunion with her family, only to hear the murdering cries from afar. And if what Turner is teasing holds any weight, and there really is a more disastrous moment awaiting in the future season, I don't know if I can even handle it— I don't know if I can stomach it. Though, this comes from someone who also shut their eyes tight when Ned Stark was beheaded in Season 1.
The newest season promises the expected (and unexpected) blood shed, plenty of graphic sex scenes, and some new characters sprinkled in the mix. The seven kingdoms needs a new ruler, and we'll have to see who takes the Iron Throne. Just last week, this brand new trailer for Season 5 dropped, and it is started to bring up the excitement even further.
But, now, with Sansa Stark teasing an extreme amount of bloodshed, boy do we have a lot in store. How can we prepare for the unexpected? If there's anything The Red Wedding taught us, it's that no one is safe in the Game of Thrones. Season 5 officially premieres on April 12, 2015.
Your Daily Blend of Entertainment News