Watch Dwayne Johnson Perform Stayin' Alive On Lip Sync Battle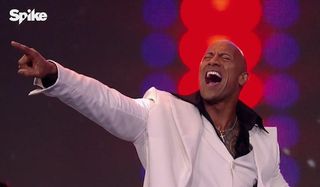 Everyone knows Jimmy Fallon is never one to turn down a challenge, especially when it comes to lip sync battles. However, in his latest battle against Dwayne Johnson, it looks like he may have met his match. Watch as The Rock performs this epic rendition of the Bee Gees' "Stayin' Alive" on Spike's Lip Sync Battle.
The Bee Gees haven't looked this good since they released their hit disco track "Stayin' Alive" back in 1977. As you can see in the above vid, Dwayne Johnson brings a whole new modern vibe to the track while also holding true to its original disco style. I think the brother's Gibb would most certainly approve. While Fallon absolutely brought it on his Madonna "Like A Prayer" rendition, Johnson undoubtedly stole the show... something tough to do when you're up against The Tonight Show pro. The thing that makes Johnson's performance so good is his willingness to let go and put on a show. The Furious 7 star always brings his A-game. Just look how he works the camera.
The entire performance was spot-on, from the lights, to the dancers, to the costumes; in essence the entire production was top-notch. Leave it to The Rock to incorporate the spectators, handing one female fan a pretty sweet piece of memorabilia.
While Fallon may have locked it up against Kevin Hart and Will Ferrell back in February when he and Drew Barrymore performed Bill Medley and Jennifer Warnes' "(I've Had) The Time Of My Life," his battle versus The Rock was a much, much closer. Why he'd even go up against Johnson is anybody's guess. Maybe he wasn't aware of the San Andreas actor's penchant for song. Has he not seen Johnson's recent Elvis impersonation on Live with Kelly and Michael? Sometimes you just have to learn the hard way. Fallon, a producer on Lip Sync Battle, did exactly that as he watched The Rock also go all in with his rendition of Taylor Swift's "Shake It Off."
Johnson has been all over recently, doing promotion for his latest film Furious 7, which hit theaters yesterday. One notable stop along the way was his hosting last weekend's Saturday Night Live, in which he (and a mock cast of Furious 7 actors) took part in a live-action remake of Bambi and reprised his iconic character The Rock Obama.
Your Daily Blend of Entertainment News
Thank you for signing up to CinemaBlend. You will receive a verification email shortly.
There was a problem. Please refresh the page and try again.