Watch Eli Manning's Indifferent Reaction To Peyton's Super Bowl Win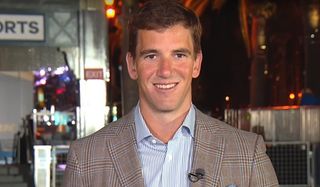 Super Bowl 50 was an evening comprised of powerful emotions for just about everyone involved in the affair, from Peyton Manning's glorious – and potentially final – victory to Cam Newton's utter disappointment. Hell, even CBS is presumably thrilled about the game's outstanding ratings this year. However, there's one person who seemingly felt absolutely nothing at this year's Super Bowl: Eli Manning. Check out the Vine below to see exactly what I'm talking about.
It's moments like these that make us so damn happy about the ubiquity of cameras and social media. As the Vine shows, Eli watched his brother Peyton win the Super Bowl from a skybox, and as everyone else in attendance cheered, all he could do was stand and stare off as his brother reaped the glory of victory. What makes the entire thing even more hilarious is the small child dressed like a southern frat bro directly in front of Eli, who screams and cheers as though he has just literally met Santa Claus in the flesh. Clearly these two felt decidedly different emotions while watching the elder Manning brother achieve this big win.
It would be easy to judge Eli for not celebrating more as his own flesh and blood won a Super Bowl. For those of you who think that, I have only one thing to say: you clearly don't have a sibling. For at least another year Eli is going to hear about this at every single family gathering that he and Peyton attend. Look at his expression; he knows exactly what he's in for. Up until last night, Eli – despite being the younger brother – had two Super Bowl rings while Peyton only had one. Now that they are tied, the family dynamic in the Manning household may start to shift. If my older brother had just won the Super Bowl (thank God he didn't) then I would probably have the same expression plastered across my mug as well. I feel for you, Eli, I really do.
If you're in the mood for a good laugh then sit back, relax, and let that Vine above play over and over again. Peyton Manning may ultimately retire now that this season has come to a close, and if that happens, you can bet that Eli's going to try his absolute hardest to get another Super Bowl ring – at least that's what his empty, emotionless expression tells us. Good luck with that, Eli; we wish you all the best in coming out from your older brother's shadow once more.
Originally from Connecticut, Conner grew up in San Diego and graduated from Chapman University in 2014. He now lives in Los Angeles working in and around the entertainment industry and can mostly be found binging horror movies and chugging coffee.
Your Daily Blend of Entertainment News
Thank you for signing up to CinemaBlend. You will receive a verification email shortly.
There was a problem. Please refresh the page and try again.