Watch Ellen DeGeneres Surprise Portia De Rossi With The Most Ridiculous Workout Tape Ever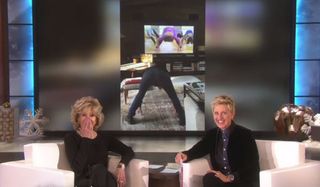 Ellen DeGeneres was planning to have actress and former fitness instructor Jane Fonda on talk show this week, so she took one of Jane Fonda's workout tapes home for her wife Portia De Rossi to try out, then secretly videotaped her while she attempted some of the more ridiculous workout moves from the 1980s. Give The Ellen Show segment a watch, below.
I think we can all agree that everything about eighties workout tapes was a little ridiculous. From the headbands and the neon-colored legwarmers to the oddball squats and jogging in place, there's a lot that we can look back on and giggle at. It's especially funny to see Portia De Rossi giving the butt-toning moves a try several decades later. It's hard to bend and snap!
While I think even Jane Fonda would agree that her fitness guru fashion choices were a little over-the-top back in the day, it's actually incredibly interesting to hear Fonda talk with Ellen DeGeneres about the fitness revolution in the 1980s. Prior to that, woman weren't expected to be athletic in any sense and if a woman did want to be buff or toned, it was hard to find an outlet in which to get in shape. But then the VCR revolution hit and with it came the exercise tape, which gave women the freedom to exercise in ridiculous get-ups. When you put it that way, there was a lot more going on with Fonda's workout tapes than those funny positions.
You have to think that De Rossi has a good sense of humor to be cool with Ellen just splashing her butt all over her popular TV show, but I guess if my butt were in that nice of shape, I wouldn't mind either. And by far, that's not the funniest trick Ellen has played on unsuspecting people on her show. Ellen is a woman who has been able to get Oprah Winfrey herself to indulge in an epic rap battle. We've seen the actresses in Mom throw on their own goofy exercise gear and engage in an American Ninja Warrior course on the show. (Allison Janney crushed that, by the way.) Ellen even convinced Britney Spears to learn "Gangnam Style" from pop singer Psy. She has an incredibly way of helping celebrities to get in touch with their goofy side, even if that means dancing around to Jane Fonda exercise tapes.
The only thing that could have made this video better is if Ellen had gotten the relatively reserved Jane Fonda to give her old tapes a go. These days, Fonda is just a little too elegant for those shenanigans, coming off a stint as a badass boss on The Newsroom, although she will delve into comedy for her next project with Lily Tomlin over at Netflix. Something tells me there won't be leg warmers involved.
Your Daily Blend of Entertainment News
Reality TV fan with a pinch of Disney fairy dust thrown in. Theme park junkie. If you've created a rom-com I've probably watched it.