Watch Ellen And Oprah Go Head To Head In Hysterical Epic Rap Battle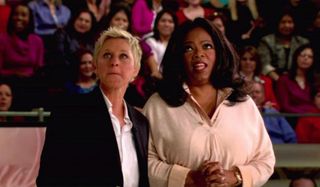 Two of the most successful women in the entertainment industry have come head to head to spit some rhymes, and talk some smack in a new segment of Epic Rap Battles. The parody Youtube video features two actresses playing the TV personalities, Oprah Winfrey and Ellen DeGeneres battling with verse to see who will come out on top. Watch below:
Ellen DeGeneres, played by Lauren Flans has some great lines. She admits that Oprah had her reign, but now, "oh I'll knock you off of your throne/ take a shot at everything you OWN." DeGeneres is coming for her, and her title. And this rap battle ride is hilarious, because even though the lines are pretty ridiculous, the underlying competitiveness of the two TV personalities is bound to exist.
Oprah Winfrey, played by November Christine has some harsh words for her competitor stating, "you played a fish with brain damage, I'm a nominated actress, name's synonymous with power". Hey wait a second, Dory in Finding Nemo teaches some important life lessons, like just keep swimming.
DeGeneres' response is basically that she likes kittens, puppies, and making people feel good, which is why she is so popular. We can't forget that DeGeneres is a comedian, and her power and popularity come from that basis. But I'd have to say, the ultimate power in the world of TV personalities is probably Oprah. She spits the line, "the Dalai Lama and Obama, memorize my cell number," which is probably a truth. Though, despite Oprah and her connection to political powers, if the competition is solely based on who reigns daytime TV, it is a close call. DeGeneres is on the rise. Since her internet-breaking hosting job at The Oscars, she's gone beyond her role as the host of her own show Ellen.
Epic Rap Battles is one of the most subscribed to channels on YouTube and it always knows how to bring to life to comparing between two people we always wish to see go head to heard. It's take on Ellen vs. Oprah is one of many hysterical battles between fictional or non-fictional characters throughout history. The series has featured many internet and media celebrities, and explores topics such as politics, literature, history, and even science fiction. "The Darth Vader vs. Hitler" installation was actually a certified Gold single in the U.S. and has over 86 million views on YouTube. The lyrics are always clever and insightful. You can tell, even in the Oprah vs. Ellen segment that the writers took time make sure they referenced important issues such as, the crazy Tom Cruise on Oprah. They put a lot of research into creating these epic battles. And always end it on a note that lets the viewers decide who won. So who do you think won this battle, the comedic Ellen, or the mighty Oprah?