Watch Flavor Flav Do The Weather Forecast On Salt Lake City News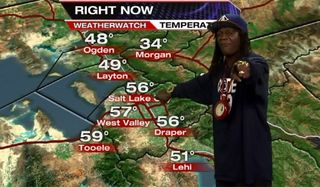 Viral videos come out of the local news all of the time. Oftentimes, those viral moments are inadvertent rather than intentional, but occasionally they are well-conceived and planned ahead of time. That's exactly what happened when Good Day Utah signed on Flavor Flav to pop up and do the weather report. You can check out his amusing performance as a news anchor, below.
Amusingly, the segment was well-planned enough that graphics had even been composed for the occasion and Flavor Flav had on a respectably large clock and the rest of his normal attire. He'd even practiced using a green screen for the occasion. Honestly, this appearance is pretty cool, and not just because we get a signature "Yeah Boyee" moment. It actually takes a while for someone to learn the mechanics of the weather green screen and to figure out exactly where he or she needs to point to talk about different locations and different weather patterns. Flavor Flav actually crushes this task, and spits out some rhymes while he is talking, to boot.
At the end Flavor Flav even got a little sentimental, talking about not really "being a weatherperson" as he self-identifies as a rapper. He does seem to have appreciated the opportunity though, having gone above and beyond to make the experience enjoyable (or at least understandable) for Salt Lake City viewers. He then thanked Fox for the opportunity and used his last few seconds on the air to shout out to his brother. He later stayed on the program to do a real non-weather related interview.
This isn't the first time a Fox channel has had a celebrity do the weather. A few months ago, Good Day Chicago had Ash vs Evil Dead actor Bruce Campbell pop up to do a similar report. In that case, the weather report turned into a traffic report and more, but anyone who has ever seen an interview with Bruce Campbell should know he's a huge talker. It's no shock that Flavor Flav's local moment in the sun was a whole lot briefer.
When celebrities are not available, other news anchors have tried some other tricks to get more viewers on board with their reports. There's the dude who attempts to get as many musical references in as possible during his weather reports. Then, of course, there's also the meterologist who went all out and dressed up as a Game of Thrones character for one report.
Stay tuned, as there have been plenty of memorable weather moments in the early part of 2016 and there are sure to be more in the future. While we wait for time to pass, be sure to check out this compilation of great weather-related bloopers.
Amazing Race & Top Chef superfan with a pinch of Disney fairy dust thrown in. If you've created a rom-com I've probably watched it.
Your Daily Blend of Entertainment News
Thank you for signing up to CinemaBlend. You will receive a verification email shortly.
There was a problem. Please refresh the page and try again.