Watch Kim Kardashian Mock Herself In This Hysterical Super Bowl Commercial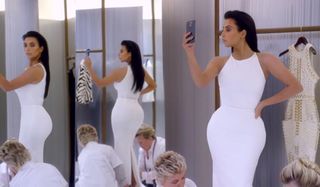 The onslaught of Super Bowl commercials airing before the Super Bowl has begun. This week, T-Mobile shared its latest ad, which focuses on how T-Mobile data rolls over, at least according to Kim Kardashian. Alright, we know all of you aren't down with Kimmy K's bad self, but there is good news. The whole ad is amusingly self-deprecating and actually pretty funny. Check it out, below.
Kim Kardashian is headed back to TV with the "#KimsDataStash" commercial, which is meant to highlight what people can do with their T-Mobile data rollover. As Kim notes at the beginning of the commercial, most people don't get to rollover data and that data is lost, but if we switch to a T-Mobile plan, we can all look at way more Kardashian selfies on the internet, including shots of Kim's "makeup" (read: backside).
We can also be sure to check out her "backhand" in tennis (read: frontside).
Honestly, everything about this commercial makes me laugh. We are just two months out from Kim Kardashian "breaking the Internet" with her big Paper Mag shoot, and the reality star has already found a way to playfully use her love for selfies and social media in general to create an engaging commercial. In fact, T-Mobile even takes the joke further, listing her as Kim Kardashian, famous person at the beginning of the commercial. You know you've made it when you don't have to take yourself quite so seriously anymore.
Kardashian has always really loved the attention that selfies have brought her. So much so in fact that it reportedly caused some problems in her relationship with Kanye West. Certain other pictures have also gotten her into trouble with fans in the past, but that hasn't stopped the reality star and fashionista from posting fun, racy and sometimes even practical photographs to her Instagram.
It's hard to maintain fame when you have no discernable skill sets beyond taking photos and maintaining a cult following on the Internet. The likes of Nicole Ritchie and Paris Hilton should be able to attest to that. However, love her or hate her, Kardashian has done a fine job of making sure her name and face pop up everywhere—including in the latest T-Mobile commercials. Now, we just have to wait for Sunday to wait for the reaction when the commercial officially airs. I sense a Twitter hashtag related to the lady's rear in her near future.
Super Bowl XLIX airs on Sunday, February 1 at 6:30 p.m. ET only on NBC. If you don't have a TV package, you can also stream the game for free.
Amazing Race & Top Chef superfan with a pinch of Disney fairy dust thrown in. If you've created a rom-com I've probably watched it.
Your Daily Blend of Entertainment News
Thank you for signing up to CinemaBlend. You will receive a verification email shortly.
There was a problem. Please refresh the page and try again.