Watch Louis CK Admit To Intentionally Costing Jimmy Fallon A Job Back In The Day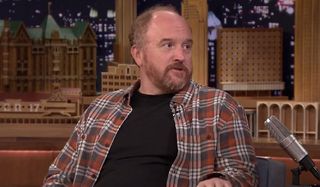 Long before the days when Louis C.K. was known as the widely-beloved misanthropic actor/comedian, he was working behind the scenes on the writing staffs of several late night talk and sketch shows. However, on last night's The Tonight Show Starring Jimmy Fallon, the titular star of TV's Louie would recall a fascinating anecdote dating back nearly two decades where the paths of C.K. and a young, up-and-coming talent named Jimmy Fallon would fatefully cross.
Even if you are old enough to remember ABC's brief foray into sketch comedy with The Dana Carvey Show, then chances are you would still need a spectacular memory to recollect that vehicle for Carvey, the former Saturday Night Live recurring character phenom. Airing in 1996 for an ever-so-brief seven episodes before it was ignominiously cancelled - with the eighth never making it to air - the show featured an array of now-prominent talents like Stephen Colbert, Robert Smigel and Steve Carell. However, Louis C.K. also happened to serve on that show as head writer and, as he recalls in the story, a super-young, energetic Jimmy Fallon once auditioned to be on that show. That's where things take a turn that might make C.K. seem less like the grumpy-loveable comedic personality we all know and more like a vindictive douchebag.
In an act that was admittedly motivated by a bit of jealousy, C.K. claims to have proactively ensured that the optimistic hopes of the burgeoning youth would be "torpedoed" with extreme prejudice in a way that was almost worse than Fallon's 2004 box-office bomb, Taxi. Yes, that's right, Louis C.K. went out of his way to take the showbiz dreams of a then-baby-faced Jimmy Fallon and crush them into a rancid, putrid pulp of pestilence.
The incident was barely a blip on the radar of Fallon's memory, as he didn't even remember the audition in question. (Two years later, he would end up on Saturday Night Live.) Yet, for C.K., the 19-year-old confession comes as a regretful reflection on a demoralizing demonstration of dickishness in his past, coming with the concession that Fallon was truly talented.
Why, might you ask, would he do such a thing? Well, according to his answer, it was because the women on the staff were raving about Fallon in the post-audition meeting, causing C.K. and another writer to vehemently oppose adding him to the cast, even threatening to quit over the matter. It seems that the self-described "sweaty and balding" C.K. had no desire to look at the energetic young prodigy perpetually chipping away at his own self esteem. Perhaps that's understandable, as the nature of show business tends to bring out a cutthroat mentality, inspiring actions that when described in words seem petty and pusillanimous in retrospect.
Besides, Fallon was apparently playing a guitar, shaking his ass, while singing about Troll dolls! We might have to give Louis some leeway, here.
Your Daily Blend of Entertainment News
Your Daily Blend of Entertainment News
Thank you for signing up to CinemaBlend. You will receive a verification email shortly.
There was a problem. Please refresh the page and try again.