Watch Margot Robbie And Jimmy Fallon Play Flip Cup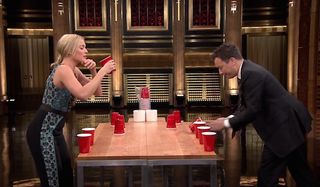 Margot Robbie visited the The Tonight Show Starring Jimmy Fallon last night to promote her upcoming film Focus. During her appearance, Jimmy Fallon, who is notorious for challenging his guests in random competitions, convinced the Australian actress to join him for a friendly game of flip cup, the winner receiving a sleeve of solo cups and two rolls of toilet paper. Check out the video, below.
As you could see in the above clip, Robbie did a fine job getting down and dirty with Fallon in this low-key rivalry. Fallon's initial jab, joking about flipping the cup and then drinking the beer off the table, was pretty hilarious but ultimately proved not to knock the actress off her A-game. Robbie surprisingly held the lead the entire time and did so like a champ. Seeing her almost lose the game while attempting to chug her fourth cup was also pretty entertaining.
While the above flip cup segment was a bit uneventful, Fallon has a way (like with his Chris Hemsworth water wars and Liam Neeson arm wrestling segments) of making the most trivial events seem fun and enjoyable. There is a reason The Tonight Show gig was handed to him and he consistently proves again and again why NBC made the correct decision when it choose him. Not only is Fallon one of the more likable comedians on TV, but he always seems to genuinely enjoy his job. He brings out the best in his guests, even when rewarding them with toilet paper.
And what was with the TP, you ask? Well, we learned earlier during the interview portion of the show that Robbie had a past record of stealing toilet paper from hotels. When Fallon laid the facts out on the table, she knew exactly what he was talking about and proceeded to explain the details. As it turns out, the actress has several roommates--some of them guys--and they never have toiler paper when they need it. While filming The Wolf of Wall Street she was staying at a hotel and grabbed a whole mess of rolls on her way out only to be bum-rushed by paparazzi. Luckily Fallon had done his due diligence and was able to provide the photo evidence taken from the scene of the crime.
Robbie seemed to be a good sport in both the interview and flip cup portions of her appearance on The Tonight Show. She was open, funny and never seemed to feel uncomfortable, even with the thieving and bathroom discussion.
You can see Margot Robbie in her latest movie Focus (check out the trailer), which hits theaters today (February 27) The comedy/drama follows a con man named Nicky (Will Smith), whose latest scheme is interrupted by Jess (Robbie) a woman from his past who has since become an "accomplished femme fatale." Fallon, on the other hand, is off for the weekend, but you can catch future episodes of The Tonight Show Starring Jimmy Fallon on NBC weeknights at 11:35 p.m. ET.
Your Daily Blend of Entertainment News