Watch Chris Hemsworth And Jimmy Fallon Pour Water All Over Each Other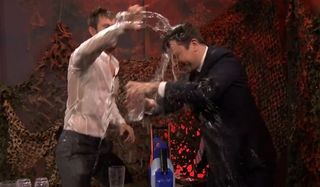 Chris Hemsworth recently appeared on The Tonight Show Starring Jimmy Fallon to promote his upcoming film Blackhat, and let's just say things got pretty wet, pretty fast. Check out Fallon and Hemsworth pouring water all over one another in an intense game of Water War, below.
Everyone knows Fallon loves to challenge guests on his show. After watching him take on Hemsworth in "Water War," a take on the card game "War" with an aquatic spin where the loser of the hand has a glass of water thrown in his face, I think it's safe to say he has a thing for water sports, as well.
During the episode, the two fiercely battled it out, both starting with five glasses of water. Upon Fallon winning the first hand, he took the opportunity to measure arms with Hemsworth, prior to blasting him in the face with the first glass of water.
Hemsworth didn't seem to let Fallon's cheap shot affect his approach to the game. It wasn't long before he got his payback on the show host anyhow. Although he came out losing pretty badly in "Water War," you wouldn't know it by the footage. Breaking into what could even be called a victory dance of sorts, he seemed to "soak up the moment." I know, I just couldn't resist.
Fallon is a master at entertaining audiences. His background on Saturday Night Live has provided him a wealth of understanding regarding show business, as well as a killer improvisational skill set. His skits on The Tonight Show are always amusing and he gets top tier guests, all of which seem to have genuine chemistry with the host. Whether he's arm wrestling Liam Neeson or playing Musical Beers with Mark Ruffalo, everyone involved always looks like they're having a great time… and Thor star Chris Hemsworth was no different.
Hemsworth stars in the upcoming Michael Mann film Blackhat, where he plays a convict hunting down a sophisticated, international cybercrime syndicate. You can catch Fallon over at NBC on weeknights at 11:35 p.m. ET.
Your Daily Blend of Entertainment News
Thank you for signing up to CinemaBlend. You will receive a verification email shortly.
There was a problem. Please refresh the page and try again.