Watch Pat Sajak Scream At Wheel Of Fortune Contestants After 2 Wild Guesses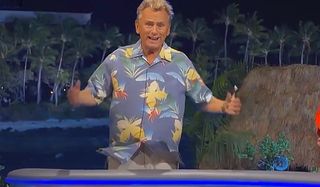 Wheel of Fortune host Pat Sajak has dealt with all kinds of contestants over the years. Most of the time, he is able to keep it together while he hosts, but recently the man freaked out while dealing with a round on the show, yelling at two sets of Wheel of Fortune for some of the wildest answers in history. Check it out, below.
During the episode taped in Hawaii as part of Wheel of Fortune's "Best Friends Week," the contestants were given the category, "What Are You Doing?" for the bonus round. The answer was a four-word phrase that was barely filled out when the contestants began guessing some pretty wild answers. To their credit, during the bonus round, when contestants get a letter, they get three seconds to guess anything, so it makes sense the contestants would take a chance.
Unfortunately, Pat Sajak found these answers flabbergasting, especially as they went on. The first team of two dudes guesses the letter 'n.' There is one 'n' on the board, and he excitedly states, "Riding a brown horse!" Obviously, that's not the answer. Then, things get really weird. The ladies who follow guess a 'g' and follow that guess with the equally absurd answer, "Riding a white horse!" The actual answer is "Seeing a buddy movie," but that doesn't stop them from horsing around!
At this point, Sajak loses it. The longtime host throws up his hand and walks offstage. Eventually, he does return to finish the round, noting he was truly losing it and that no one said anything about horses. It's almost as funny to see Sajak's response as it is to hear the wild answers from the teams.
To give the brown horse guy a little credit, his guess does fit the number of letters in the round. The first dude's guess was hardly the worst we've ever seen on the series, unlike that college student from Indiana University who popped up on Wheel of Fortune back in April. At least these teams didn't guess the answer to be "on-the-spot dicespin." Sajak should know better than anyone that it does get worse.
The host has been a part of Wheel of Fortune since 1983, and has seen tons of flubs and even a few beautiful and unique million dollar wins over the years. But this may be the greatest reaction the man's ever had to any of the weirdness that goes on during Wheel of Fortune. You can catch new episodes of Wheel of Fortune on weeknights. Check your local listings.
Your Daily Blend of Entertainment News
Reality TV fan with a pinch of Disney fairy dust thrown in. Theme park junkie. If you've created a rom-com I've probably watched it.
Your Daily Blend of Entertainment News
Thank you for signing up to CinemaBlend. You will receive a verification email shortly.
There was a problem. Please refresh the page and try again.