We Finally Know When Mark Hamill Will Be Back On The Flash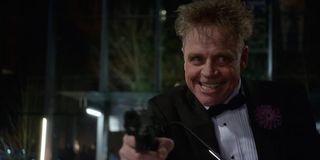 After originally playing The Trickster in two episodes of the original 1990s Flash TV series, Star Wars legend Mark Hamill reprised the character earlier this year for The CW's The Flash. Despite not being a metahuman, James Jesse proved to be a unique threat in "Tricksters," alongside his son Axel Walker. It was confirmed last week that Hamill will return during The Flash Season 2, and now we know precisely when this will happen.
During a set visit to The Flash set, Comicbook.com learned that fans can expect to see Trickster in the mid-Season 2 finale on December 8. Not only that, but that episode will also feature other Rogues, though they didn't identify exactly who we might see. If this Christmas episode is anything like last year's (which saw Barry finally meet Reverse-Flash), fans can likely expect major repercussions for the rest of the season. The Flash's midseason finale will follow its big crossover with Arrow, which will not only see Barry Allen and Oliver Queen joining forces again, but also include Legends of Tomorrow characters like Hawkgirl, Hawkman and Vandal Savage.
Hamill has previously said that if the original Flash TV series had been renewed, the Season 2 premiere would have featured the formation of The Rogues, i.e. some of Flash's biggest enemies joining forces to pull off heists and take down the speedster. Obviously that never happened, but perhaps Hamill is finally getting the opportunity to be a part of the super villain team. Although most of The Rogues were introduced in Season 1, the team has yet to officially form. Season 1's penultimate episode "Rogue Air" came the closest with establishing them by featuring the S.T.A.R. Labs metahuman prisoners breaking out. After Captain Cold prevented Flash from recapturing them, he noted that they'd owe him, so this could be the moment that they all officially decide to work together. They may also want to establish the team before Captain Cold and Heat Wave head off to Legends of Tomorrow.
Jesse was introduced on The Flash when Barry and Joe sought his help from prison with tracking down Axel, who was passing himself off as a wannabe Trickster. Although Jesse originally acted pissed off that someone was angling for his "throne," it was later revealed that he was in cahoots with Axel, who helped him escape prison. Together the duo poisoned the attendees of a political fundraiser to steal all their money, but Flash was able to stop them and deliver the antidote after getting a kinetically-charged bomb off his wrist. It hasn't been announced whether Axel will join Jesse in his next appearance, but even if that doesn't happen, the gag-obsessed criminal will be able to cause enough damage on his own.
New episodes of The Flash air Tuesdays at 8 p.m. EST on The CW.
Connoisseur of Marvel, DC, Star Wars, John Wick, MonsterVerse and Doctor Who lore. He's aware he looks like Harry Potter and Clark Kent.
Your Daily Blend of Entertainment News
Thank you for signing up to CinemaBlend. You will receive a verification email shortly.
There was a problem. Please refresh the page and try again.