Weeds' Eighth Season Could Be Its Last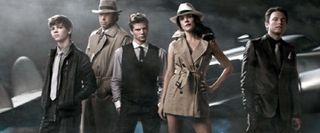 The upcoming eighth season of Weeds could be the end of the series according to Showtime Entertainment president David Nevins. With the plan for next season's storyline still up in the air and several options being considered, one of them is apparently a path that will lead to the Botwins' swan song.
When Weeds hit the air back in 2005 there was nothing else quite like it, and it was a huge hit for Showtime. A quirky series with an interesting plot about a suburban housewife turned pot dealer and a catchy theme song, it was brought to life by great writing and characters like Kevin Nealon as Doug and mega-bitch Celia Hodes, played by Elizabeth Perkins. Since then the show has moved on into some interesting and often preposterous plotlines, but still averaged 720,000 viewers in season seven.
In November Weeds was renewed for the eighth season after ending the seventh with a major cliffhanger, but apparently the show is hanging on a cliff itself. According to The Hollywood Reporter, Nevins told TCA press that "it's a very real possibility" that this next season will be the last for the series. Negotiations with series creator Jenji Kohan continue, but it doesn't sound promising.
With multiple awards to its credit, Weeds has been a big hit for Showtime, but the struggle to keep it fresh has been evident in the last few seasons. Meanwhile, Showtime has had other hits, including Dexter, to turn to and has high hopes for new series such as Homeland, which has been renewed for its second season.
If Weeds is headed for the end, you can be sure the Botwins will go out with their own inimitable style.
Your Daily Blend of Entertainment News
Thank you for signing up to CinemaBlend. You will receive a verification email shortly.
There was a problem. Please refresh the page and try again.