Weeds Season 8 Spoiler Photos: See Who's Alive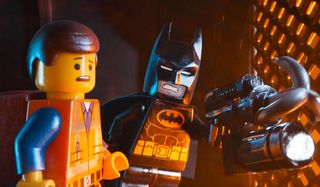 In less than two weeks, Showtime will bring Weeds back for its eighth and final season. Showtime recently released some photos and key art for the upcoming new season. Check them out ahead and beware of the spoiler warnings!
I know plenty of Weeds fans are likely disappointed that the series is coming to a close, but I'll admit, I'm not among them. While I have continued to watch the series each season, none of what's aired in recent years has come close to the drama's first few seasons. But given what we've heard about Season 8 (more on that in a minute), I'm really looking forward to this last season, as I can't wait to see how Nancy's story ends.
The stuff we have to share with you for Season 8 comes with varying degrees of spoilers, so we'll roll it out from least-spoilery on.
First we have the image of Mary-Louise Parker stuck to a green target. Sort of circusy/carnival-ish while also fittingly green and a nod to the end of last season. Nancy on a target!
Next up, here's the cast talking about Season 8 in this behind-the-scenes video...
It seems like most of what's shown there is from past seasons though, but this new teaser does, as we see someone in the paramedics (also shown in the video above) and the cops in pursuit of the shooter!
And then, we have the key art, which addresses the Season 7 cliffhanger. When last season ended, Nancy was enjoying a lovely outdoor meal with her family, when we saw that someone was hiding in the bushes with a gun. Who's the shooter? And who got shot? Or rather, who got smoked? That's Showtime's clever way of tying the pot-smoking theme of the series with the big mystery in these promo photos.
Now here's where things get much more spoilery (so be warned before reading on!). These two photos aren't even from the premiere. The first is from Episode 3 of Season 8 and the second is from the fourth episode.
In this one, Nancy's in a kitchen with a little boy. We know from the last wave of spoilers that Season 8 will involve a jump in time and a move back to the suburbs (yay!). So are we looking at Nancy and her her youngest son Stevie? Seems likely…
Assuming that's Stevie, that should give us some indication of how far ahead we've jumped (at least a few years, right?)
And in this one, we're in the same fancy kitchen, and Doug is with her. Does that mean he wasn't the one shot? (Unless he was shot but survived).
And who's the other woman? It's probably too much to hope that Celia will have returned, right? Elizabeth Perkins is set to star in ABC's upcoming comedy How To Live With Your Parents For The Rest Of Your Life, but wouldn't it be amazing if she made an appearance in the final season of Weeds? With Nancy's return to the suburbs, the show sure won't feel the same without her.
Weeds returns for Season 8 on July 1 on Showtime.
Kelly joined CinemaBlend as a freelance TV news writer in 2006 and went on to serve as the site's TV Editor before moving over to other roles on the site. At present, she's an Assistant Managing Editor who spends much of her time brainstorming and editing feature content on the site.
Your Daily Blend of Entertainment News
Thank you for signing up to CinemaBlend. You will receive a verification email shortly.
There was a problem. Please refresh the page and try again.