What Constantine Season 2 Would Look Like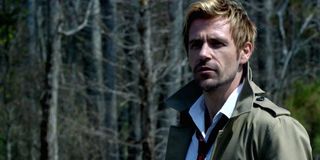 Today was a big day for the DC Comics mystical series Constantine. Earlier today, showrunner Daniel Cerone and the creative team met with NBC to pitch plans for a Season 2, and now that the network has heard their ideas, they will decide whether to renew the series or officially cancel it. It will likely be a few weeks until this decision is announced, but fortunately fans now have an idea of what to expect in a potential second season thanks to the show's writers. Be warned that there are spoilers for Season 1 ahead.
Over the weekend, the Constantine Writers' Twitter account live-tweeted re-watches of several Season 1 episodes, and sprinkled throughout their commentary were hints of what would be included in Constantine Season 2. Most notable is all the character from the magical side of DC Comics making appearances, including Doctor Fate (whose helmet was seen several times), Phantom Stranger and Etrigan the Demon. Season 2 would have also have detective Jim Corrigan finally dying and becoming The Spectre, God's spirit of vengeance.
Outside of the main cast, one of Season 1's most prominent characters was Papa Midnite, a voodoo practitioner who could be considered John's arch-nemesis. Should Season 2 happen, executive producer David Goyer wanted Midnite to be a series regular. Presumably, this also involves with the final moments of the Season 1 finale "Waiting for the Man," where the angel Manny cancelled the contract on John's life and told Midnite that the Brujeria work for him. Perhaps Manny and Midnite will be working closely together?
Finally, the writers have an interesting plan for the lake house, the bigger-on-the-inside magical headquarters where John, Zed and Chas hung out when they weren't battling dark forces. An arc of Season 2 would be set entirely inside the house. If you're a Doctor Who fan, think of the 2013 episode "Journey to the Centre of the TARDIS," but stretched out over several episodes. Constantine fans got a sense of just how massive the lake house was in the episode "The Saint of Last Resorts," when Zed was fleeing her pursuers within it.
Obviously if Constantine returns next fall, the creative team is still keeping specific plans close to the chest, but overall these teases sound like Season 2 would take on a more serialized format as opposed to doing more "monster of the week" stories. It also looks like the show would be taking more steps to include other DC magical players, allowing it to delve into areas outside the world of Hellblazer, and that's certainly an exciting prospect for comic book fans.
If you're keen on showing your support for a Constantine renewal, you can currently watch all the Season 1 episodes on Hulu and NBC.com.
Your Daily Blend of Entertainment News
Connoisseur of Marvel, DC, Star Wars, John Wick, MonsterVerse and Doctor Who lore. He's aware he looks like Harry Potter and Clark Kent.
Your Daily Blend of Entertainment News
Thank you for signing up to CinemaBlend. You will receive a verification email shortly.
There was a problem. Please refresh the page and try again.