What John Cusack And Cameron Crowe Think Of The Say Anything Adaptation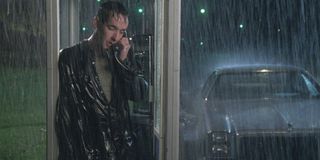 Yesterday, we learned that NBC was putting together yet another TV series idea based on a classic film. This time around, the network wants to turn Say Anything into a TV show. However, the original cast and crew who shot the movie are none too pleased about Say Anything's new premise and TV potential. Both director Cameron Crowe and actor John Cusack have spoken out to say they won't be touching the new Say Anything project with a ten-foot pole.
After hearing about NBC's big announcement, Crowe took to Twitter to exclaim his disdain over what NBC wants to do with his directorial debut.
John Cusack was also asked about the project via social media. Cusack played Lloyd Dobbler in the original film, the romantic, hopeful just-graduated high school student who falls for Diane. His character will be a key part of the updated Say Anything, but the man is adamant he will stay as far away from the new project as possible.
NBC's latest project will pick up ten years from the events in the original movie. Despite the fact that the movie was originally released in 1989, the new Say Anything will be set in the present day. The central plotline will follow Lloyd Dobbler, who has long since been dumped by Diane. Lloyd finds out Diane is returning to town and there might just be some hope for the relationship. It's not the worst premise I've ever heard the network come up with, but if Cusack and Crowe have their way, the potential series will not come to fruition.
Movies becoming TV projects have been a big trend recently. NBC already has About a Boy on the network, and a Real Genius remake is in the works. Big and Minority Report might also be returning via TV. Whether or not Crowe and co. are happy about it, movies are owned by the studios that finance them, not the directors and actors who create them. The studios ultimately get to decide what happens to each property, whether or not everyone involved with the original movie agrees. Clearly, this latest trend is a divisive one in the industry, but, ultimately, each of the remakes will live and die by their own merit or lack thereof.
Your Daily Blend of Entertainment News
Reality TV fan with a pinch of Disney fairy dust thrown in. Theme park junkie. If you've created a rom-com I've probably watched it.