What Really Happened When That Walking Dead Fan Bit Norman Reedus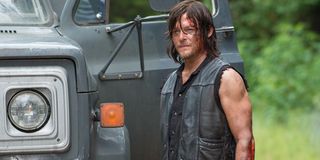 Just a few months ago, we reported that Walking Dead star Norman Reedus had been bitten by an eager fan while at Walker Stalker Con. Reedus emerged from the event mostly unscathed, but during a recent appearance on Jimmy Kimmel Live! the actor finally explained what the heck happened after he took a photo with a person who seemed to be a sweet lady. Here's his hilarious take on events:
Clearly, this woman was meeting one of her idols and just totally lost it. The actor even said she related how she would pretend to be married to Reedus before she had her little moment. I don't have any idea how this manifested into a bite on Norman Reedus' chest, but maybe the association between zombies and The Walking Dead was enough to get her into a biting frenzy. As it stands, the woman later shared the picture she had taken before she bit Reedus on social media, apologizing for what happened after. Norman Reedus also says it all ended up alright. She didn't bite him hard enough to actually break through the skin, so it just became a legendary story he now gets to tell. (Man, Reedus has a lot of weird stories.)
Speaking of the story, if you'd like to hear Reedus tell the tale in his own words, do check out the segment from Jimmy Kimmel Live!, below.
You would think that this woman would be an outlier, but Norman Reedus isn't the only Walking Dead actor who has been bitten by a fan before. Tyler James Williams, who formerly played Noah on the series before his character met an untimely end, was also bitten by a fan shortly after his gig on The Walking Dead ended. He believes the fan thought it was funny. He definitely doesn't.
Just in case these two instances make it seem like it might be okay to bite your idol, we're here to tell you, it's a bad call. A better call? Resort to awkward conversation and taking pictures with celebrities. It's way more sanitary and will keep you from being tackled by the cops. Or, if you'd rather keep a safe distance from your favorite stars, you can catch new episodes of The Walking Dead on Sundays at 9 p.m. ET, only on AMC.
Amazing Race & Top Chef superfan with a pinch of Disney fairy dust thrown in. Theme park junkie. If you've created a rom-com I've probably watched it.
Your Daily Blend of Entertainment News
Thank you for signing up to CinemaBlend. You will receive a verification email shortly.
There was a problem. Please refresh the page and try again.