The Whispers Has Been Cancelled, Will Not Return For Season 2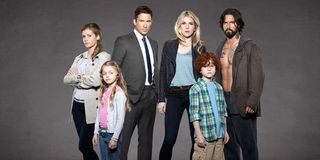 This summer saw a bunch of new programs hit the schedule on network TV. While some, like Zoo, fared pretty well with audiences, other shows found themselves more on the bubble. Among these was the brand new ABC drama The Whispers, which found itself with a small live audience but a devoted DVR following. Unfortunately, those Live+3 numbers weren't enough to save the show. ABC announced this afternoon that The Whispers had been cancelled. It will not return for Season 2.
Here's the thing. A lot of times when we here at CinemaBlend announce a renewal, it's clear that a show hasn't been doing well. That wasn't the case with The Whispers, which did a 1.5 rating during its premiere. While that's not a super high number compared to some fall and spring TV shows, it's still pretty big for a summer premiere. While the ratings average did start to fall as the series wore on, it wasn't obvious that The Whispers would be getting cancelled, especially as the show's DVR numbers proved to be a boon for the show. The premiere, for instance, popped up from a 1.5 rating to a huge 2.5 rating after Live+7 numbers were considered.
However, Deadline is reporting that we probably should have seen this coming, thanks to the contract lapse that happened a few months ago. Back in June, the contracts for The Whispers cast members expired. In order to bring everyone back for Season 2, ABC would have had to renegotiate with each of the cast members, possibly for more money. Having to renegotiate would have been a hassle, and there's no guarantee all of the cast would sign on to come back. Some cast turnover was expected for Season 2, however, so this may not have been a huge problem for the series.
The Whispers had a wild science fiction-based concept, with children playing a "game" with a perceived imaginary friend named Drill. An FBI specialist named Claire was tasked with looking into the case, and later the plot thickened to include a mystery surrounding her own child and husband. We won't spoil it for you, but a few big reveals came later in the season, although it wasn't enough to draw in additional viewers on the night the show aired.
ABC's summer lineup is going to be changing a lot next summer. While Mistresses will be returning, Rookie Blue has been cancelled. Unfortunately for fans of the event series The Astronaut Wives Club, a second season has not been ordered. (This can happen and did with ABC's other's event series last year, Agent Carter.) At least Astronaut Wives Club was conceived as an event series and capably wrapped up.
CBS is also making major lineup changes next summer, so ABC isn't the only network that will see a bunch of new programming come together in the coming months. We'll let you know as soon as summer pick-ups are announced, although it will doubtless be awhile. For now, here's what has yet to premiere this fall.
Reality TV fan with a pinch of Disney fairy dust thrown in. Theme park junkie. If you've created a rom-com I've probably watched it.
Your Daily Blend of Entertainment News
Thank you for signing up to CinemaBlend. You will receive a verification email shortly.
There was a problem. Please refresh the page and try again.