Why Some Big Bang Theory Fans Won't Get To See Sheldon And Amy's Big Moment Live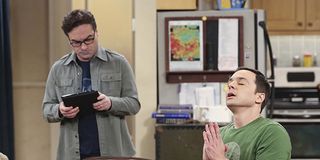 Some basic spoilers regarding The Big Bang Theory are in the next few paragraphs. If you missed last week's episode or want literally no information about this week's, head out now.
The Big Bang Theory has spent months dealing with the aftermath of the break-up between Sheldon and Amy. Last week, the show finally got the couple back together during an awkward scene that also featured Stephen Merchant's Dave character. If you've been keeping tabs on Season 9 at all, you probably already know that Sheldon and Amy are—as Sheldon clinically likes to put it—going to engage in coitus. It's a big moment—monumental for the couple and fans alike, only some of us aren't going to be able to see the moment live.
CBS already has a crazy primetime schedule this time of year, as football pushes back the network's Sunday night lineup on a frequent basis. However, those who are football fans know that games that are airing on cable are given the opportunity to air on network TV in the local market. Tonight's game features the Tampa Bay Buccaneers playing the St Louis Rams in what may be the latter's last home game. CBS has picked up the big game, and if you live in an area catering to either of those markets, it means you aren't getting the biggest episode of The Big Bang Theory to air in quite some time.
We know there are other options than watching the show live, but The Big Bang Theory still does big same-day traffic. Reports indicate that The Big Bang Theory is being shuffled to 1:30 a.m. ET on Friday if you live in the Tampa Bay area. The rest of the lineup will air after. So, if you're a night owl, you may be able to catch the episode late that night. If not, DVR and On Demand are going to be your friend. It's worse if you live in the St Louis area. St Louis is on Central time, and reports indicate that The Big Bang Theory and the rest of CBS' Thursday night lineup won't be re-aired until the night following. We're not even talking during primetime. Instead, The Big Bang Theory will air at 12:37 a.m. Central on Saturday, December 19 (this is technically Friday night if you are thinking about it that way). Life in Pieces won't hit the schedule until 1:07 a.m. Central, Mom won't air until 1:37 a.m. Central and 2 Broke Girls won't hit the schedule until after 3 a.m. ET. Elementary will actually get the cushy midnight slot, although I don't see how that works out with The Big Bang Theory airing at 12:37.
The episode in question will feature Amy and Sheldon having sex for the first time in their nearly five years of dating, minus that break-up. We also know the big day is going to coincide with the premiere of Star Wars which also happens to coincide with Amy's birthday on the series, so that should be interesting. Missing a normal episode of The Big Bang Theory wouldn't be nearly as big of a deal, but this is literally the episode the show has been building for since the Season 8 finale, so it does suck if you live in the St. Louis or Tampa Bay markets.
If you aren't living in either of those markets, bully for you. "The Opening Night Excitation" will hit the schedule in its usual 8 p.m. timeslot elsewhere. The episode is expected to feature Bob Newhart and the aforementioned Star Wars-oriented plotline, and was exceedingly well-timed by The Big Bang Theory writing staff. You can learn more about the episode here.
Photo courtesy of CBS.
Amazing Race & Top Chef superfan with a pinch of Disney fairy dust thrown in. If you've created a rom-com I've probably watched it.
Your Daily Blend of Entertainment News
Thank you for signing up to CinemaBlend. You will receive a verification email shortly.
There was a problem. Please refresh the page and try again.