Why The Supergirl Costume Totally Rocks, According To Supergirl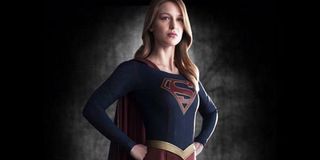 When CBS released their first look at Melissa Benoist's Supergirl it came with mixed reactions. For many, the costume just stood as simple and sleek. But for the actress who got to put on her superhero garb for the very first time, it was an entirely different feeling. A feeling that truly inspired, a feeling that only comes when you become Supergirl.
After a long and intensive casting process, Glee's Melissa Benoist nabbed the starring role in the upcoming CBS series, Supergirl, and by doing so, she not only has to embody her character on screen, but enters an entire superhero universe that puts her face on a comic book legend. With all that in mind, Benoist stepped into what would become her alter ego, and the whirlwind of emotions began to set in. She opened up to Entertainment Weekly on the experience:
Though Benoist isn't the first actress to bring Supergirl to life (and certainly won't be the last) she is one among very few female superheroes being portrayed in the current superhero film/tv landscapes. So that feeling of empowerment is extremely important to her and the character. But, Benoist explained that it was still a goofy moment, as she came to try on the costume with an injured eye and an eye patch over it.
So while Benoist got all the feelings of being super when she put on the costume, she still was able to stay grounded with her injury. It's kind of perfect considering these are the two similar opposing factors that Supergirl also struggles with. If we think about the suit representing her power, her super abilities, and the eye patch representing her humanity, her defeats, the aspects keeping her grounded in reality, then Melissa Benoist's first reaction to trying on the suit, is probably a similar emotional reaction that Kara Zor-El goes through. We can't wait to see this totally awesome costume in motion when Benoist takes the small screen as Supergirl. Supergirl premieres on October 26 at 8:30 p.m. ET on CBS.
Your Daily Blend of Entertainment News
Your Daily Blend of Entertainment News
Thank you for signing up to CinemaBlend. You will receive a verification email shortly.
There was a problem. Please refresh the page and try again.