Why True Blood Is Ending With Season 7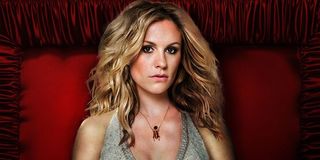 It's hard for fans not to be thinking of True Blood this week, as we are all too aware of the fact that on Sunday night HBO will be airing the final episode of the popular vampire series. Not just the final episode of the season, the final episode ever. While the show may be ending, the ratings have been doing quite well for the subscription cable network, prompting us to wonder why HBO is canceling one of its best performers. Luckily, HBO programming director Michael Lombardo has a reasonable answer to that question.
The suited up network man spoke with THR this week to discuss why Season 7 will be True Blood's last. At the heart of his reasoning, he talks about about how numbers are not the guide for HBO, but rather, storytelling is.
Once a show becomes wildly popular but peaks creatively, there are really two ways a network can go with a show. A company can choose to go the How I Met Your Mother or Grey's Anatomy route and push into new territories and storylines beyond the original scope of the idea, often with a loss of quality. Or, a network can go out with a bang, choosing to end a series before many fans are quite ready to let that series go, a la Breaking Bad or Six Feet Under. Both options have their pros and cons, but clearly HBO is more worried about creative storytelling than how many people tune in each week.
Over the years, HBO has developed a roster that is the envy of most other programming stations. Instead of quantity, HBO is known for a reasonable episode count. Instead of choosing safe programs, HBO is known for going out on a limb. What's probably most telling about the success of this format is the company's once slogan, "It's not TV, it's HBO," now simply, "It's HBO." Part of the reason the subscription network can do this is because it isn't catering to the same clientale or using the same business model as most of the other TV stations. It relies on subscriptions rather than advertising rates. So, it makes sense that HBO would care more about its 99 Emmy nominations than the number of eyeballs hopping over each week. It's a pretty enviable position to be in.
Still, in the case of True Blood, creativity actually peaked a few seasons ago yet has continued to do pretty well in the ratings, so I don't think HBO has totally eschewed giving fans what they want. In any event, the network really seems to know what it is doing, and should continue to do so as it puts together future programming for that summer Sunday slot. In the meantime, if you'd like to tune in for what is likely to be a memorable episode of True Blood, you can catch it on Sunday night at 9 p.m. ET.
Reality TV fan with a pinch of Disney fairy dust thrown in. Theme park junkie. If you've created a rom-com I've probably watched it.
Your Daily Blend of Entertainment News
Thank you for signing up to CinemaBlend. You will receive a verification email shortly.
There was a problem. Please refresh the page and try again.