The Wire Writers Dennis Lehane And George Pelecanos Headed To Boardwalk Empire For Season 4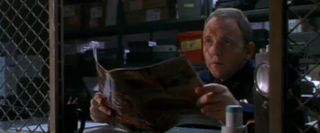 In what can only be described as a brilliant move, HBO has tapped The Wire well for additional writers on the upcoming season of Boardwalk Empire. Despite some complaints, the third year of Terrence Winter's bootlegging drama has turned out great but that doesn't mean the help of novelists Dennis Lehane and George Pelecanos, both veterans of the Baltimore set sprawling drug series isn't welcome for Season 4.
The Boston Herald caught up with Lehane who was quick to attribute being offered the gig as a "creative consultant" for Season 4 of Boardwalk Empire to his latest novel which is also set during prohibition; "My guess is that someone at HBO read 'Live By Night' and thought it would be a good fit," before adding that he's "a huge fan of the show so it worked out nicely." I'm sure the subject matter of the recent novel came in handy in landing the job but let's be honest, with his credits, Lehane probably doesn't have too much trouble finding work.
Besides writing for The Wire, the Boston born author has penned several novels, many of which have been turned in to feature films including Clint Eastwood's Mystic River, Ben Affleck's Gone Baby Gone and Martin Scorsese's Shutter Island and Affleck - who couldn't be hotter at the moment thanks to Argo - is also looking to adapt the aforementioned Live By Night as his next picture.
George Pelecanos doesn't have the same big screen credits as Lehane but the experienced author who still works with David Simon on Treme (although I imagine his involvement is all but done with this being the show's last year) will also help shape the fourth season of Boardwalk Empire "once the bloodbath [of Season 3] is over." Lehane's words. The Herald notes that he'll write the script for at least on episode but it isn't clear if the same can be said for Pelecanos. Either way, both additions are exciting and bode well for the future of bootlegging at HBO.
Your Daily Blend of Entertainment News
Thank you for signing up to CinemaBlend. You will receive a verification email shortly.
There was a problem. Please refresh the page and try again.