The X-Files: Get The Details On Mulder And Scully's Break-Up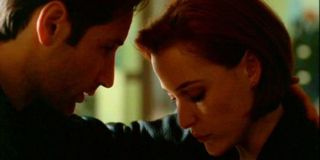 With the reboot of The X-Files just months away, more details on where our two favorite sci-fi special agents will stand has been slowly released. Just last month, word came out that the pair would no longer be together, romantically, and X-Files fans came together in absolute shock. But now, creator Chris Carter is opening up about the decision to break up one of TV's favorite couples, and it's actually making us feel a bit more comfortable with their relationship status.
Last viewers saw Mulder and Scully in the 2008 feature length film I Want to Believe the two had resolved their differences, and reconciled. But now the franchise's pair are no longer romantically involved, and Chris Carter shared how this will affect the new X-Files story. In an interview with The Hollywood Reporter he said:
While fan's reactions on this revelation have been mixed, to say the least, there's something about tension between the two that made their relationship that much better throughout the original The X-Files. Throughout the series, that tension was a driving force, and fans sat in anticipation till Season 7 when the two successfully locked lips. Though upon Scully getting pregnant, and sharing a child with her co-worker, things started to get a bit more serious, and the two staying together seemed even more important. This certainly isn't to say that the two won't get back together, but clearly the idea of them no longer being romantically involved opens up the story in different ways.
The reveal that the dynamic duo will have some issues is not necessarily something new for fans. Even during their on-and-off again relationship towards the end of The X-Files series there was often strife between the two. It was always in their personality, they liked to argue, it is what arguably made them better FBI agents, they saw things in different ways and sorted them out. When The X-Files event series premiere comes Jan. 24 on Fox, we are bound to see that type of tension rise again. Whether or not the outcome will be in the favor of our two lovebirds reunited, we'll just have to wait and see.
Your Daily Blend of Entertainment News
Thank you for signing up to CinemaBlend. You will receive a verification email shortly.
There was a problem. Please refresh the page and try again.