Britney Spears' Legal Team Is Taking Shots At Dad Jamie Spears Again
No oops, they did it to Jamie Spears again.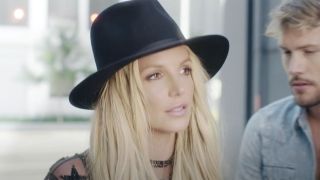 (Image credit: SME)
When Britney Spears' father Jamie was removed by the court as her primary conservator last September, many fans thought that would be the end of his involvement in the ongoing story of his daughter's independence. However, some news outlets began to report that the pop star's legal team would seek litigious action against her father for the alleged abuse she suffered under his supervision. While no such suit has been confirmed to be filed, the younger Spears' attorneys have spoken out on Jamie Spears' behavior - and it's not exactly complimentary.
According to The Blast, Britney Spears' legal team released a statement decrying the actions of her father and former conservator Jamie Spears. These new legal documents delineate Jamie's supposed misdeeds against his daughter, and assert that history will not remember him in a kind light. Part of the statement reads:
Jamie Spears had requested that Britney's conservatorship be lifted last September, a marked shift from his earlier views. Matthew Rosengart, Britney Spears' attorney, alleged that this change of heart was an attempt to salvage his reputation and avoid further legal inquiries. Vivian L. Thoreen, Jamie Spears' lawyer at the time, denied this, saying that he loved his daughter "unconditionally" and had only acted in her "best interests."
While that may have been Jamie's side of the story, Britney Spears (and just about everyone else) seemed to feel differently. She had often called out her family for what she claimed was unfair treatment, and had been petitioning the courts for years to remove Jamie Spears as conservator. In her court testimony delivered last June, she said that her conservatorship had forced her to take medications and complete rehab programs that she did not want to participate in — not to mention refusing her control over her own body when it came to things like birth control. She testified that she wanted to get married and possibly have another baby, but that her managers did not allow her to do so.
The legal documents recently released by Britney Spears' representation also speak more to accusations that Jamie bugged his daughter's bedroom:
There have been no official announcements made regarding a potential formal lawsuit being filed against Jamie Spears, but if there is a decent chance Britney Spears would come out the victor, it likely isn't far into the horizon. In more positive Britney-related news, the pop star recently got engaged to her longtime boyfriend Sam Asghari, you can check out the photos.
Your Daily Blend of Entertainment News
Actor, singer, and occasional dancer. Likes: fashion, books, old buildings. Dislikes: cilantro, the NJ Turnpike, sneaker wedges.