Danica McKellar Celebrated The Wonder Years' 35th Anniversary With Adorable Throwback Pics And A GAF Shoutout
The star still has plenty of love for The Wonder Years.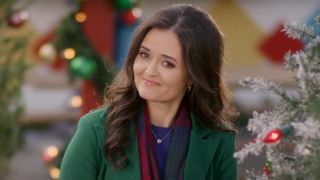 (Image credit: GAF)
Danica McKellar has had a steady presence in the entertainment industry for decades now, and that's due, in great part, to her breakthrough role on the classic coming-of-age series The Wonder Years. For six seasons, she played the role of Winnie Cooper, the object of young Kevin Arnold's affections. McKellar nailed the part, and many still recognize her for it years later. While the actress is busy with her commitments to the Great American Family network these days, she hasn't forgotten about the TV show that made her a star. To that point, she celebrated the dramedy's 35th anniversary with some adorable throwback pics and even managed to include a GAF shoutout.
For some, it may be crazy to think that it's been over three decades since audiences were introduced to The Wonder Years. I admittedly wasn't born when it debuted on ABC in January 1988 but, like many others, I discovered it through syndication. (And I still get chills any time I hear Joe Cocker's version of "With a Little Help from My Friends.") Danica McKellar's Instagram post definitely gives one the feeling that she knows just how special the show is for so many. While her message is sweet, it's the snapshots – which feature co-stars Fred Savage, Josh Saviano and more – that can really melt one's heart. Take a look, and try not to get too overwhelmed by the nostalgia:
This is such a sweet way to commemorate the anniversary of what's considered to be one of the greatest shows in TV history. In some cases, actors don't look back too fondly on their early work, so it's lovely to see the actress, who recently celebrated her 48th birthday, show this level of affection here. In her warm message, she shared her feelings about the show while plugging her more recent work:
The Young Justice alum went on to mention that she loves hearing fans talk about their personal experiences with the series. That prompted her to ask her followers to share their remembrances in the comments section. The user remarks vary, with some opening up about favorite episodes and others quoting the sitcom. But what all of the sentiments seem to have in common is a genuine love and respect for Neal Marlens and Carol Black's classic show.
Over three decades after The Wonder Years' cancellation in 1993, its legacy lives on through a reboot that's currently airing on ABC. The new series centers on an African American family living in Montgomery, Alabama during the late 1960s. The show has received positive reviews and has been lauded for staying true to the feel of the vintage TV franchise while also forging its own path. While the revamp doesn't lean too heavily on its roots, it's since been confirmed to exist within the continuity of its predecessor. This was confirmed when Season 1 featured a huge Winnie Cooper connection, which Danica McKellar was supportive of.
Danica McKellar quit acting for years following her stint on the program, and explained that this was due to her desire to find out how she could be "valuable outside of Winnie Cooper." That journey led her down an academic path, on which she earned a degree in mathematics from UCLA. Of course, after that, she'd eventually become a Hallmark staple before leaving the network for GAF in 2021. So far, she's starred in The Winter Palace and Christmas at the Drive-In for the latter, and she has plenty of other productions on the way. Though she continues to tackle new projects, it's good to know that she holds a special place in her heart for the series that made her a star decades ago.
Those who want to connect with the veteran actress, and some of her former co-stars, can do so by attending this year's '90s Con which will take place from March 17-19 in Hartford, Connecticut. Fans feeling nostalgic right now can use a Hulu subscription to stream The Wonder Years as well as the reboot, which will return this summer as part of the 2023 TV schedule.
Your Daily Blend of Entertainment News
Covering superheroes, sci-fi, comedy, and almost anything else in film and TV. I eat more pizza than the Teenage Mutant Ninja Turtles.