Following Raven-Symoné, Emily Ratajkowski Becomes The Latest Celeb To Clarify The Pronunciation Of Her Name
How does one pronounce Emily Ratajkowski's name?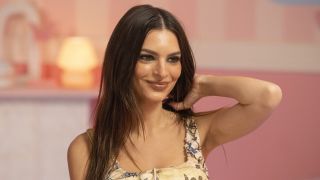 (Image credit: Showtime)
It seems like more and more these days, celebrities are blowing people's minds by revealing that we've actually been pronouncing their names wrong for years on end. Disney vet Raven-Symoné recently went on the record once again to point out how fans have actually been mispronouncing her name due to professional "advice" about what would be easier for audiences to say. Now Emily Ratajkowski has become the latest to clarify how her name is said, and it might make you think twice.
An Instagram video posted by fashion designer Tory Burch at her Fall/Winter 2023 runaway show featured an interview with model Emily Ratajkowski. When she was asked how to pronounce her last name, which definitely isn't phonetic in nature, the answer she gave likely isn't what English-dominant speakers would have expected.
There you have it. This is how Ratajkowski is really pronounced, in representing the actress' Polish-Israeli descent. So case closed? Probably not.
Just because we know how to say it doesn't mean it will stick for some, least of all those who haven't watched it yet. Since Emily Ratajkowski hasn't spoken up much about correcting others about name pronunciation, it's likely she doesn't pay too much attention to that, but it is still interesting and important that she shared this insight for posterity's sake. It does make me wonder how many times she's had to correct people in the past, and how many more she will correct in the future.
It's definitely frustrating when one needs to constnatly "Well, actually..." others over name pronunciation, and is no doubt all the more irksome for those in the public eye being reported on by a multitude of different outlets and platforms. Not so much an issue in print, but video and TV make the vocalizing that much more vital, so hopefully everyone can get on the correct side of things soon.
Celebrities and their names can spark debates sometimes where pronounciations are concerned, and when there's confirmation, it can create a tidal wave of mixed reactions. (As if fans's oipinions are somehow imperative to someone's given name at birth.) But I have to say that it does keep things entertaining to see people being shocked into silence upon realizing they've been botching things for so long.
Meanwhile, Emily Ratajkowski has been making headlines for reasons other than her name. After her fling with Pete Davidson, she's been seen out and about with comedian Eric André, and even spent Valentine's Day doing some nude day-drinking while seemingly making their relationship Instagram official. At least André's name is easy to pronounce because I can't imagine if she dated someone whose name is also hard to say or, at the very least, spell.
Ratajkowski does have a podcast, High Low with EmRata, but she doesn't always say her full name, and maybe it's so people don't have to constantly question how to say it, which wouldn't be surprising. Plus, interviewing stars like Bella Thorne, who opened up about her Disney days, the focus is more on the guests than on her anyway. Maybe an upcoming episode of the podcast can be all about mispronouncing in Hollywood? Because that would surely make for an entertaining episode.
Your Daily Blend of Entertainment News
Passionate writer. Obsessed with anything and everything entertainment, specifically movies and television. Can get easily attached to fictional characters.