HBO's Perry Mason: 7 Important Things To Remember Before Season 2 Starts
For those of you who need a refresher.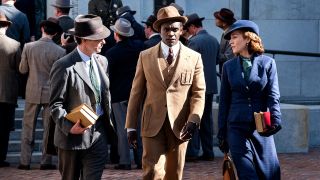 (Image credit: HBO)
It's been a long wait for Perry Mason Season 2, as the HBO reimagining of the literary character created by Erle Stanley Gardner debuted its first season back in June 2020, with Robert Downey Jr. attached as one of the executive producers. Fortunately, fans of the show are just a few days away from the next batch of episodes kicking off, and among the things we know about Perry Mason Season 2 is it'll follow Matthew Rhys' Perry, who scored the role in 2019, getting involved in another high-profile murder trial during 1933. This time around though, he'll be working as a defense lawyer from the start, as opposed to being looped in as a private investigator. Get a taste of what's coming up by viewing the Season 2 trailer below.
Because so much time has passed since Perry Mason Season 1 aired, some of you might need a refresher on where things were left off if you didn't have time to rewatch the prior episodes with your HBO Max subscription. Not to worry, we have you covered. Here are the seven important things to remember before catching the Season 2 premiere.
The Emily Dodson Trial Ended In A Mistrial And Her Son Returned… Sort Of
Through various unfortunate circumstances, Emily Dodson was framed for arranging the kidnapping and subsequent death of her son Charlie. Perry Mason was the one who found evidence that painted a target on Emily's back, but after the death of E.B. Jonathan (more on him soon) and learning that her replacement public defender was in cahoots with district attorney Maynard Barnes, Perry took over representing her. Her trial ended in a mistrial, and while we later learned that Perry had his partner, Shea Whigham's Pete Strickland, pay off one of the jurors, that juror revealed that two of his cohorts legitimately voted not guilty,
After Emily walked free, she saw the baby that Birdy from the Radiant Assembly of God claimed was a resurrected Charlie. Despite instantly noticing this baby was different, Emily decided to accept him as her "reborn" son and joined Birdy's traveling church. Birdy's daughter Alice, on the other hand, was dismayed by how the events involving her mother, Emily and "Charlie" played out. As such, she abandoned her role as leader of the Radiant Assembly of God and set up a new life for herself as a waitress at a costal town, hence why Tatiana Maslany won't appear in Season 2.
Perry Mason Took Over E.B. Jonathan's Law Practice
One of the saddest moments in Perry Mason Season 1 was when John Lithgow's E.B. Jonathan died by suicide after Maynard Barnes blackmailed him with claims that would get him disbarred, as well as having failed to acquire a loan from his bank. Now his law practice is being run by Perry Mason. During the Emily Dodson trial, Juliet Rylance's Della Street forged records that Perry had been serving a legal apprenticeship with E.B., and with help from Justin Kirk's assistant district attorney character Hamilton Burger (who's been upgraded to main cast member in Season 2), Perry was able to pass the bar exam and become a lawyer. He'll still put his investigative skills to good use in Season 2, but now is our first opportunity to see how he does as a practitioner of law from the start.
Della Street Became Perry Mason's Partner
Della Street, like Hamilton Burger and Paul Drake, has been an integral character in the Perry Mason canon for decades. However, she's more than just a secretary in the HBO show; she aided Perry in discovering the truth of how Charlie Dodson died. When all was said and done, Della decided to stick with Perry once he took over E.B.'s legal practice. However, she made it clear that she won't continue simply fulfilling her secretarial duties. She and Perry are going to be full partners going forward, just the way it should be. In fact, judging by the Season 2 trailer, it looks like there will come a point in Season 2 where Della will get to show off her own legal prowess in the courtroom.
Paul Drake Is Now Investigating For Perry Mason
Chris Chalk's Paul Drake started out in Perry Mason Season 1 as an LAPD officer, but because this version of the character is Black, he continually faced bigotry from people he's sworn to protect and even his fellow police officers. Although Paul initially refused to work with Perry Mason and share his findings in the Charlie Dodson case, because he'd been threatened by the corrupt Joe Ennis, he eventually changes mind and helps out with Perry's investigation. By the end of the season, Paul resigned from the police force and agreed to work with Perry as a detective for the law practice. When Season 2 begins, Paul hasn't worked as much for the firm since Perry has been focusing on more civil cases, but once this new murder trial begins, count on him once again uncovering key evidence.
Pete Strickland Went To Work For Hamilton Burger
Perry Mason and Pete Strickland had already been working together for a long time when the events of Perry Mason Season 1 unfolded, but by the end of the season, their partnership came to an end. Although these two are still on amicable terms, Pete decided he wanted a change and agreed to work for Mason Burger, who had started prosecuting the Radiant Assembly of God's financial crimes after the Emily Dodson trial was over. Shea Whigham will recur in Season 2 rather than be part of the main cast, so don't expect to see him as much this time around. Whether that means he'll be killed off at some point or he'll just be busy doing things offscreen remains to be seen.
Gene Holcomb Had Joe Ennis Killed
Another corrupt police officer active during Perry Mason Season 1 was Eric Lange's Gene Holcomb, as he worked alongside Joe Ennis to cover up what truly happened to Charlie Dodson and place the blame on the boy's mother. Holcomb pushed Ennis to kill Radiant Assembly of God deacon Eric Seidel, one of the men who was involved in the church's financial crimes and the conspiracy that led to Charlie's death. After the trial ended, Holcomb arranged for Ennis to be drowned to cover his own tracks. While it's unclear how exactly Holcomb fits into Season 2, it's safe to assume he'll continue being an adversary to the title character rather than suddenly change his ways.
Perry Mason's Relationship With His Son Teddy Is Rocky
It was abundantly clear during Perry Mason Season 1 that Matthew Rhys' version of the character is quite troubled, particularly because of his experiences during World War I. We also learned that he's been estranged from his wife and son, and while Perry did briefly visit Teddy during the last season, it's clear that these two don't have the greatest relationship. In Season 2, Teddy has been enrolled at a private school in LA, and he's being taught by Katherine Waterston's Ginny Aimes. Teddy appears to be doing well under Ginny's tutelage, and per the plot synopsis provided by Deadline, Perry may find himself needing "some of her sunshine" too. However, with the Season 2 trailer showing Perry punching a man who insulted him in front of Teddy, there's still some work to be done for Perry to be looked at as a positive figure in the eyes of his son.
Perry Mason Season 2 debuts this Monday, March 6, at 9 pm ET on HBO. Keep track of other shows set to premiere soon, or the ones currently on the air, with our 2023 TV schedule. Also keep in mind that the classic Perry Mason series still ranks as one of the best mystery shows, so feel free to give that a watch when you're not busy with HBO's adaptation.
Your Daily Blend of Entertainment News
Connoisseur of Marvel, DC, Star Wars, John Wick, MonsterVerse and Doctor Who lore. He's aware he looks like Harry Potter and Clark Kent.