The Best Classic Mystery Shows And How To Watch Them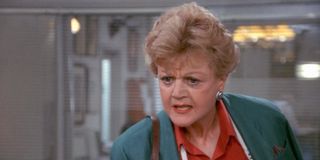 CinemaBlend participates in affiliate programs with various companies. We may earn a commission when you click on or make purchases via links.
Murder, red herrings, and 4:3 aspect ratios. All of those can be used to describe the best classic mystery shows from TV's golden age all the way up until the end of the 20th Century. And while most of television's great detectives, writers, and detectives who happen to be writers like Jessica Fletcher on Murder, She Wrote can be watched on TV Land, MeTV, and other random channels these days, there are plenty of other and more convenient ways to enjoy these shows from the beginning through streaming, online rentals, and even old-fashioned physical media.
Below is a list of some of the best mysteries to ever hit the airwaves and how to watch them. From classics like Perry Mason (the original, not the 2020 HBO remake) to moody '80s dramas like Miami Vice, these shows are the best the genre, and television as a whole, has to offer audiences. So, grab your notebook, favorite detective's hat, and a sense of adventure because we've got to run down a list of great classic mystery shows...
Murder, She Wrote (1984 - 1996)
In the running to be one of your grandmother's favorite "stories," the long-running mystery TV series Murder, She Wrote follows professional writer and amateur sleuth Jessica Fletcher (film and theater great Angela Lansbury) as she uses her natural problem-solving skills and wit to get the bottom of scores of crimes and misdemeanors, murders, and other mysteries while also publishing one successful novel after another. After watching one, two, or 264 episodes of this classic, you'll be wondering how so much trouble can follow one person wherever she goes.
Stream Murder She Wrote on Peacock. (opens in new tab)
Buy Murder She Wrote on DVD/Blu-ray on Amazon. (opens in new tab)
Columbo (1968 - 2003)
For nearly half a century, Peter Falk was known as Los Angeles homicide detective Lieutenant Columbo on the iconic mystery TV series Columbo. From 1968 to 2003, Columbo got to the bottom of countless murders of high-profile figures, toying with the culprits at every corner, making them seem like they would get off scot-free until he let out his famous line, "Just one more thing." With 69 episodes over 10 seasons as well as multiple specials and movies, there's plenty to unpack with one of TV's great detectives. Now we just have to figure out the mystery of Mrs. Columbo.
Stream Columbo on Peacock. (opens in new tab)
Buy Columbo on DVD/Blu-ray on Amazon. (opens in new tab)
Agatha Christie's Poirot (1989 - 2013)
Over the years, everyone from Albert Finney to Kenneth Branagh has portrayed the great literary detective Hercule Poirot, but one of the actors to portray one of Agatha Christie's most iconic characters the longest is David Suchet who took up the role on the long-running crime drama Agatha Christie's Poirot. Each of the shows 70 episodes are adapted from one of Christie's novels or short stories, so fans of the English writer's work will be thoroughly entertained with this version of her classic tales.
Stream Agatha Christie's Poirot on BritBox (Amazon Add-on). (opens in new tab)
Buy Agatha Christie's Poirot on DVD/Blu-ray on Amazon. (opens in new tab)
Matlock (1986 - 1995)
The long-running courtroom drama Matlock follows the late Andy Griffith's Ben Matlock, a determined and clever criminal defense attorney with a knack for not only finding the culprit in the crimes his clients are falsely accused of committing but getting them to confess or implicate themselves in front of a jury. With a "crime of the week" setup, Matlock is one of those shows you can watch from the beginning or pick out a random episode from its nine-season run.
Rent/Buy Matlock Season 1 on Amazon. (opens in new tab)
Buy Matlock on DVD/Blu-ray on Amazon. (opens in new tab)
Perry Mason (1957 - 1966)
The legal drama Perry Mason essentially created the model of which countless shows have been based in the more than 60 years since its premiere back in 1957. Similar to what Law and Order would do later on the in 20th Century, each episode of Perry Mason would introduce a victim and multiple suspects early on and then show the titular defense attorney, played by Raymond Burr, prove his client's innocence, putting the finger on the actual perpetrator in the process.
Stream Perry Mason on Paramount+. (opens in new tab)
Buy Perry Mason on DVD/Blu-ray on Amazon. (opens in new tab)
Dragnet (1951 - 1959; 1967 - 1970)
Long before it would become an oft-forgotten parody starring Tom Hanks and Dan Aykroyd in the 1980s, Dragnet was one of the most popular and influential crime procedurals of all time. What originally started out as radio program in 1949 became must-watch TV two years later with the television adventures of Los Angeles police detective Sergeant Joe Friday (Jack Webb) and his partner, Officer Frank Smith (Ben Alexander). With an iconic opening narration and even more recognizable theme song, Dragnet is one of the best crime procedurals to see the light of day, even if the 1967 revival is a little much.
Stream Dragnet on Best TV Ever (Amazon Add-on). (opens in new tab)
Rent/Buy Dragnet 1967 on Amazon. (opens in new tab)
Rent/Buy Dragnet 1968 - 1970 on Amazon. (opens in new tab)
Inspector Morse (1987 - 2000)
If feature-length, self-contained detective stories are your bag, then Inspector Morse is the way to go. Between 1987 and 2000, the series adapted Colin Dexter's mystery novels into 33 episodes and specials featuring Detective Chief Inspector Endeavour Morse (John Thaw) and his young partner Detective Sergeant Robbie Lewis (Kevin Whatley) solving various crimes and getting into exciting adventures while in the service of the Oxford Police Department's Criminal Investigation Department.
Stream Inspector Morse on BritBox (Amazon Add-on). (opens in new tab)
Buy Inspector Morse on DVD/Blu-ray on Amazon. (opens in new tab)
Miami Vice (1984 - 1990)
One of the quintessential shows of the 1980s, Miami Vice is certainly the flashiest and sexiest TV mystery on this list. Created by Anthony Yerkovich and produced by Michael Mann, this stylish yet tonally dark crime drama centers on two undercover detectives (Don Johnson and Philip Michael Thomas) from completely different backgrounds who team up to take down the biggest players in the South Florida drug trade.
Stream Miami Vice on Starz. (opens in new tab)
Rent/Buy Miami Vice on Amazon. (opens in new tab)
Buy Miami Vice on DVD/Blu-ray on Amazon. (opens in new tab)
Miss Marple (1984 - 1992)
The British mystery series Miss Marple is based on all 12 of Agatha Christie's novels from the legendary literary figure. Over the course of three seasons that aired between 1984 and 1992, Joan Hickson portrayed the famous character as she solved various mysteries ranging from the case of a young girl being found dead in a library to a small town being put in the spotlight when the arrival of a movie star brings death, intrigue, and plenty of gossip.
Stream Miss Marple on BritBox (Amazon Add-on). (opens in new tab)
Buy Miss Marple on DVD/Blu-ray on Amazon. (opens in new tab)
Cagney And Lacey (1982 - 1988)
Sometimes the best partnerships are made up people from completely different backgrounds who are brought together because of a shared sense of purpose. That is the case for the '80s crime drama Cagney and Lacey, which revolved around two female NYPD officers Christine Cagney (Sharon Gless) and Mary Beth Lacey (Tyne Daly). But also like any good team, the one in Cagney and Lacey goes beyond the badge and two end up helping each other in their personal lives more than they would have ever guessed.
Rent/Buy Cagney and Lacey on Amazon. (opens in new tab)
Buy Cagney and Lacey on DVD/Blu-ray on Amazon. (opens in new tab)
Barney Miller (1975 - 1982)
Barney Miller is probably one of the most light-hearted TV mysteries to be featured on this list, but the police procedural sitcom that ran on ABC from 1975 to 1982 has just as much intrigue and old-fashioned police work as just about anything else. Focusing mainly on Captain Bernard "Barney" Mill (Hal Linden) and detectives in his precinct played by Abe Vigoda, Max Gail, and Jack Soo, the show saw the team of NYPD detectives solve their fair share of crimes involving distinct criminal throughout its run.
Rent/Buy Barney Miller on Amazon. (opens in new tab)
Buy Barney Miller on DVD/Blu-ray on Amazon. (opens in new tab)
Magnum P.I. (1980 - 1988)
Thomas Sullivan Magnum IV (Tom Selleck) will forever go down as one of television's best private investigators after leading Magnum P.I. from 1980 to 1988. The Vietnam veteran with his trademark mustache and tropical shirts solved countless crimes in Hawaii in his time all while taking in the scenery and all of its temptations.
Stream Magnum P.I. (opens in new tab)
Rent/Buy Magnum P.I. on Amazon. (opens in new tab)
Buy Magnum P.I. on DVD/Blu-ray on Amazon. (opens in new tab)
Kojak (1973 - 1978)
The '70s crime drama Kojak follows in the life and times of incorruptible NYPD detective Theo Kojak (Telly Savalas) who despite his love of lollipops and catchphrase "Who loves ya, baby?" isn't anyone you want to mess with. Over the course of the series, Kojak took his sense of righteousness and common sense to the streets of New York, solving crime after crime and putting away all sorts scum, looking like a million bucks in the process. Now we just need that long-rumored Vin Diesel Kojak movie.
Rent/Buy Kojack Season 2, 3, 5 on Amazon. (opens in new tab)
Buy Kojak on DVD/Blu-ray on Amazon. (opens in new tab)
Law And Order (1990 - 2010)
Long before it turned into a massive franchise with spinoffs getting spinoffs of their own, Law and Order, started out as "crime of the week" type affair that took the model created by Perry Mason decades earlier and turned it into riveting, must-watch TV. Back in the early days (even before Sam Waterson joined as Jack McCoy) the show had a gritty and realistic tone made for one of the best examples of crime procedurals. More than 30 years later, it's fun to go back and watch where it all started for one of the biggest franchises in modern television history.
Rent/Buy Law and Order on Amazon. (opens in new tab)
Buy Law and Order on DVD/Blu-ray on Amazon. (opens in new tab)
Well, with so many great classic TV mysteries to watch and so little time, now's the perfect time to check out all the great detective shows of yesteryear. And now that you know how to watch them without walking in halfway while Murder, She Wrote is airing on the Hallmark Channel, nothing is stopping you from getting to the bottom of the mystery. If you want more after revisiting all these classics, check out the best shows to binge watch on Netflix or CinemaBlend's 2021 Summer TV schedule to see when the next great mystery show hits the airwaves.
Your Daily Blend of Entertainment News
Philip grew up in Louisiana (not New Orleans) before moving to St. Louis after graduating from Louisiana State University-Shreveport. When he's not writing about movies or television, Philip can be found being chased by his three kids, telling his dogs to stop yelling at the mailman, or yelling about professional wrestling to his wife. If the stars properly align, he will talk about For Love Of The Game being the best baseball movie of all time.
Your Daily Blend of Entertainment News
Thank you for signing up to CinemaBlend. You will receive a verification email shortly.
There was a problem. Please refresh the page and try again.