Jenna Ortega Admits Working For Disney Was Brutal: 'Crazy, Crazy Hours'
Working for the Disney Channel sounds intense.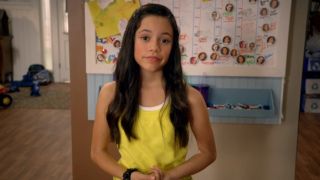 (Image credit: Disney)
I don't know about you, but I would have assumed that working on movies like X or shows like You would be more difficult than working for the Disney Channel, just based on the content of the project. However, Jenna Ortega revealed that her time working for the Disney Channel was pretty brutal, as she detailed the crazy hours, fights among the child actors' parents and more. So while she didn't have to perform death-defying stunts, learn a million different skills, or film scary scenes for a horror film, as she did on the difficult shoot that was Wednesday, it sounds like her time working at Disney Channel was truly brutal.
Now, that Jenna Ortega is well removed from her time at Disney she opened up about how difficult it was to work on her show Stuck in the Middle. While on the podcast Armchair Expert Ortega went into detail about how hard her work days were on the show that kind of predicted her future as Wednesday, saying:
She also explained that parents would constantly be asking kids questions to get their own children further. Ortega continued to talk about the relationships between the kids and parents, as well as the required therapy, noting that since the network was aware of what they would say in these sessions she didn't want to tell the therapist anything. The Wednesday star explained:
I'd imagine it would be really hard to be a kid working a full-time job, going to school, and dealing with all the drama from other kids and their parents. It's been well documented just how grueling it can be to work as a child actor – see iCarly alum Jennett McCurdy's controversially titled memoir for example – and clearly, Ortega faced some of these challenges during her time on Disney Channel.
Luckily, while that work was difficult, Ortega is on the other side of it, and she is now one of many stars to get their start on the Disney Channel who has truly taken off. Stuck in the Middle came to an end in 2018, and since then the young actress has become quite the breakout star. In 2019 she memorably starred in You, however, it was 2022 that really turned her into the star she is now.
These days, if you bring up Jenna Ortega, I'd bet most people will know her from her viral dance moves on Wednesday or her role in the Scream franchise. Like many of her Disney predecessors, it seems like the actress has left her Disney days in the past, and is on to bigger and better things.
I'm happy Orgeta didn't have to be in those tough work conditions for too long. While it really sucks she went through it, since then, it sounds like her career has really flourished, and she's been able to work on some incredible projects. For example, in the last few months alone her show Wednesday was renewed for Season 2, and she is one of the stars of the 2023 movie schedule's Scream VI. To top it off, she also has four other projects in the works. While it's not good that Jenna Ortega's experience on Disney was brutal, I'm happy she was able to move on to bigger and better things, and become one of the biggest rising stars at the moment.
Your Daily Blend of Entertainment News
Riley Utley is a Weekend Editor at CinemaBlend. She spent many years working in local journalism across the country writing about art, news and sports. One of her favorite films is When Harry Met Sally and she walks around constantly quoting Ted Lasso.