Prince Harry Took Back His Narrative With Spare, But Apparently, It Had A Negative Effect On His And Meghan Markle's Popularity
Prince Harry and Meghan Markle's popularity has not been spared.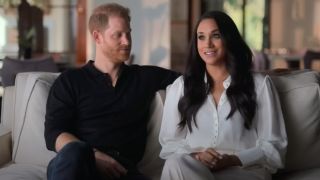 (Image credit: Netflix)
Just when you thought the popular Netflix docuseries Harry & Meghan was enough to tell the story of Prince Harry and Meghan Markle's life since marriage, the Duke of Sussex published a memoir called Spare that dove even further into their lives in the royal family. The best-seller took the internet by storm as expected with details of the duke's childhood, the death of his mother, his troubled teen years, and the relationship he has with his family. And while Prince Harry took control of his narrative with Spare, it apparently had a negative impact on his and Meghan Markle's popularity.
As Spare discussed a lot of scandalous topics that have been seen in headlines, you can imagine Prince Harry's memoir struck a lot of nerves. If you want to know how much, Newsweek published a poll that said the British royal's popularity has sunk 48 points in the United States with Markle's dropped to 40 points. This means the duke has a net approval rate of -10 and a -17 for the duchess. The poll also noted that 18% felt numb toward Prince Harry, while 20% were on the fence about the former actress. Another 7% didn't quite know what to say about the couple, with 25% having no strong feelings toward Harry and 28% feeling indifferent about his wife.
This poll came after Prince Harry's memoir Spare, which is full of wild revelations and allegations, was released. Even the title itself is shocking as this was in reference to what his father called him when he was born, and he also said his father would "sadistically" joke that he's not his real son. Harry also wrote an allegation that his brother "attacked" him by pushing him to the ground after he insulted Markle. And it didn't stop there, he also accused Kate Middleton of causing drama with the former Suits star before their wedding in 2018 after a bad exchange involving Middleton's daughter's bridesmaid dress not fitting. This page-turner of a book appears to be filled with drama in every chapter that can either leave readers intrigued or trying to figure out how they feel about the royal couple and all the stories surrounding them.
While Prince Harry didn't hold back in his memoir, neither did those who read it. The critical reviews have said this book is filled with "tabloid storytelling" and things we were better off not knowing. Others couldn't help but mention the hypocrisy of the book in that the British duke has said he would like privacy for himself and his wife, yet wrote a revealing book about his life.
Not only has Spare had a negative effect on Prince Harry and Meghan Markle's life, but it's also impacted the people mentioned in the book. Since Spare did not portray Prince William and Kate Middleton in the best light, their popularity fell too with William dropping down eight percentage points and Kate down seven points. Princess Diana's butler also wasn't happy being referred to as "the butler" throughout the book as the duke always referred to him as "Paul" growing up. He also made sure to mention after reading the book he doesn't like who Prince Harry has become.
Prince Harry and Meghan Markle's popularity dropping shows that there are always risks when it comes to telling your story in a brutally honest fashion. With an interest in the married couple seemingly descending, maybe this means these two will finally have some privacy.
However, if you want to see what all the talk is about, you can watch their docuseries Harry & Meghan on your Netflix subscription, and read Spare. You can also check out our TV premiere dates so you can continue adding more shows to your watchlist.
Your Daily Blend of Entertainment News
Just your average South Floridian cinephile who believes the pen is mightier than the sword.