The 10 Greatest Kids Game Shows Of All Time, Ranked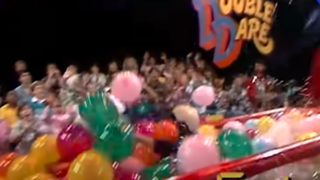 (Image credit: Nickelodeon)
Do you ever get nostalgic for the sight of someone getting smashed in the face with multiple pies, or for watching someone dig inside a giant nose for a flag? If so, then you probably lived through the Golden Age of Kids Game Shows, which took place roughly from the mid-1980s until the late 1990s. Sure, there are more recent children-centered competitions out there like Are You Smarter Than a 5th Grader? and Jeopardy! Kids Week, but those are pretty boring in comparison to even the tamest Nickelodeon game show.

So put on your dinky plastic helmets and get ready for the 10 greatest kids game shows of all time, ranked in order of excellence. We're using a complex algorithm that takes into account how much we would have loved to have been on these shows as kids. Well, I guess that doesn't sound so complex after all. Anyway, have fun trying to get these theme songs out of your head.
10. What Would You Do?
On Nickelodeon's What Would You Do? (na-na-na-NA-na-na-na), game show host extraordinaire Marc Summers puts kids and their families through the ultimate decisions, such as deciding whether to slide face first into a giant cream pie or take a pitcher of ice water down the pants. It's insane the number of pie devices this show had, including a frigging pie roller coaster. I expect the whipped cream budget on this show was equal to Summers' paychecks. I always wanted to get home from school one day to find that my parents had installed a Wall o' Stuff in my room, but that never happened.
9. Get The Picture
One of the arguably more obscure Nickelodeon game shows out there, this Mike O'Malley-hosted series put the contestants through a wide variety of image-based challenges, such as identifying pictures from X-rays, a Pictionary-type drawing game, unscrambling pictures, and many, many more. Though it contained some general trivia questions, Get the Picture was the perfect alternative for people who were more into visual puzzles than verbal trivia and physical stunts. (There were those, too, for a while, like a mini-golf round and a jigsaw puzzle round.) This was probably one of the impetuses behind my love for Find the Difference games.
8. Where in the World is Carmen Sandiego?
I will admit that part of my love for this show stems from the ridiculously imitable a capella theme song from Rockapella, but the rest comes from adoration of the Carmen Sandiego computer game series, as well as an enjoyment of extremely simple geography questions. Add to that the crime-solving element, the goofy humor, and the great Lynne Thigpin as the Chief, and this show couldn't go wrong. At least that's the "Word on the Street." On the contrary, the enjoyable Where in Time is Carmen Sandiego? just didn't do it for me in the same way. Maybe it's because I'd hit puberty by that point.
7. Finders Keepers
What could possibly be better that having an entire (fake) house to wreck to shit, and winning prizes for it? That's how the Wesley Eure-hosted Finders Keepers worked, giving kids the opportunity to make a mess hunting for specific objects in both normal rooms and specialty set-ups, such as Frankenstein's laboratory and other fantastical places. Plus, the opening rounds consisted of finding hidden objects in pictures, so this was basically the precursor to the point-and-click video gaming sub-revolution. With over 250 episodes produced in under two years, this was exactly the kind of show that made me wonder if Nickelodeon was peeking into my dreams at night.
6. Wild & Crazy Kids
With Omar "Big O" Gooding as one of its giggle-happy hosts, Nickelodeon's W-Wild & Crazy Kids was the game show for kids who didn't give two shits about puzzles or trivia and were more interested in playing basketball with water balloons and playing a bouncy-ball form of polo. This show was the first place I ever saw life-size versions of board games like Battleship, and I still have rage issues with never being able to take part in one in my own life. And nothing gets better than celebrity guests whose popularity has not lasted.
5. Fun House
The game show that kicked off the J. D. Roth Hosting Era, Fox's Fun House truly defined just how amazing an obstacle course could be, and its final round is actually my favorite game show structure of all time. Contestants had to search for tags through a variety of contraptions and rooms, such as spinning floors, swimming pools, revolving tunnels and more. The other rounds were pretty great as well, including the mess-making first rounds and the token-winning Grand Prix races, but I would admittedly sometimes just skip the first 20 minutes just to get to the actual Fun House round. Sometimes nobody got time for that.
4. Guts!
Hosted by Mike O'Malley and officiated by "Mo" Quirk, Nickelodeon's Guts! is basically a kid version of American Gladiators, where athleticism is far more important than brain power. The show added bungee cords and pools to just about every sport imaginable, from lacrosse to volleyball to surfing, and also brought out skiing, football, roller hockey and more. And it all capped off with the mighty Aggro Crag (or whatever version of the name you prefer), which contestants would climb in a race to the top, with crap like confetti and fake boulders as obstacles. This was always the game I wanted a home version of, but realized that my home would have to be a giant soundstage. And I'd have been fine with it.
3. Nick Arcade
Do I even have to explain why a game show centered on video games was amazing? Even one based on video game technology from 1991 and 1992, long before Bloodborne was making people rip their hair out. Hosted by Phil Moore, Nick Arcade's main rounds involved an excellent gameboard full of visual games and pop culture puzzles. But seriously, the best parts of this show were the Face-offs, in which contestants would play against each other in a show-specific video game, and the final round Video Zone, in which players would travel through a "real life" video game by way of watching themselves on a monitor as they hopped around in front of a blue screen. Dated to the point of hilarity? Absolutely. But still pretty revolutionary at the time.
2. Legends of the Hidden Temple
The greatest show ever to feature a rule-bearing giant stone head voiced by Dee Bradley Baker, Nickelodeon's Legends of the Hidden Temple was an amalgamation of everything that makes children's game shows great – including stunt-filled rounds, trivia, and the most atmospheric obstacle course ever – and it stood apart with its historically fantastical Indiana Jones aesthetic. With all of its puzzle-solving, climbing and rope-swinging, the Hidden Temple itself was like watching a real-life version of Tomb Raider. Plus, where else are you going to find sweet-ass team names like the Orange Iguanas and the Blue Barracudas?
1. Double Dare
On your Marc…Double Dare is the quintessential children's game show, and I can't imagine that it will ever lose its spot atop the slime-covered mountain. (Seriously, if it ever comes back, it's bound to be a pale imitation.) As we've already established, any game with an obstacle course is a great time, and Double Dare had some of the messiest forms of flag-capturing imaginable. It's the show that put Marc Summers on the map. It's the show that put "physical challenge" into the pop culture lexicon. It's the show that made one question how easily walking up a chocolate-covered slide would be. Double Dare was the best.

Honorable Mentions: Figure It Out; Secrets of the Cryptkeeper's Haunted House; Teen Win, Lose or Draw; Masters of the Maze
Your Daily Blend of Entertainment News
Your Daily Blend of Entertainment News
Thank you for signing up to CinemaBlend. You will receive a verification email shortly.
There was a problem. Please refresh the page and try again.