Nickelodeon Pulls Cartoon After Kids Spot Naked Boobs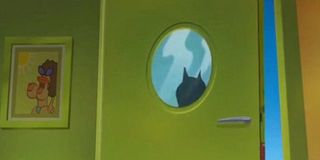 Chances are, unless you are a young child or the parent of a young child, you probably don't know the Nickelodeon cartoon series Oggy and the Cockroaches. Well, that's all about to change as recent headlines about the animated children's show make their way around the world. Turns out Oggy isn't only for children, as Nickelodeon has proven with a recent episode featuring some naked boobs... which when spotted by some kid viewers, prompted the network to pull the installment.
Oggy and the Cockroaches is a fan favorite among its child viewers. We're not all that sure how well the show goes over with adults, though, especially after TMZ's report of their sneaky move, throwing in a pair of boobs. In the episode, the title character, Oggy, an overweight blue cat named after Iggy Pop, enters his kitchen where in clear view (seen for about 1-2 seconds), hangs a photo of a topless women with very large, prominent breasts. While Oggy appears clueless to the "nip slip" pic, child viewers proved to be far more conscious to the cats surroundings, pointing out the subtle, yet very obvious, framed photo. The network, which likely received numerous phone calls for its inappropriate content, has subsequently pulled the now-controversial episode (which you can view here).
When adult imagery sneaks its way into animated children's content, one can't help but be reminded of the originators of such behavior, Disney. The multimedia company has been arguably slipping in sex-based imagery for years now, starting with their 1989 film The Little Mermaid, which (depending on who you talk to) featured male genitalia imagery on the cover of its VHS as well as within the marriage scene of the film itself. And let's not forget the stardust in the sky in The Lion King, in which many clearly see the word "sex" spelled out.
Oggy and the Cockroaches centers on Oggy, who prefers to waste away his days eating and binge-watching TV. He surrounds himself with three cockroaches named Joey, Marky and Dee Dee (named after members of the punk band the Ramones) who do their best to throw poor Oggy's life into chaos. The relationship is sort of a love-hate dynamic and tends to show Oggy as bored or depressed in the absence of his persistently mischievous little friends. Much of Oggy and the Cockroaches is built around slapstick humor in the vain of Tom and Jerry but with an added level of extremism.
We'll see if there is any more fall out from the XXX choice the show clearly tried to sneak in, but right now the nip slip just seems to have pissed off a few parents, resulting in the one episode being removed.
Your Daily Blend of Entertainment News
Your Daily Blend of Entertainment News
Thank you for signing up to CinemaBlend. You will receive a verification email shortly.
There was a problem. Please refresh the page and try again.