Tiger Woods Calls Out Ex-Girlfriend's NDA Claims Related To Sexual Abuse Statute
Tiger Woods responded to his ex-girlfriend's claims.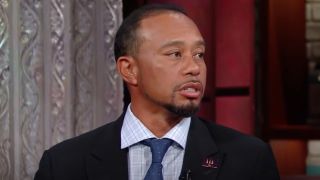 (Image credit: CBS)
As of last week, Tiger Woods is now part of a legal situation involving a former partner. His latest ex-girlfriend has taken issue with the golf legend over a purported non-disclosure agreement that she claims he made her sign. She's now citing a sexual abuse-related statue in an attempt to nullify the agreement. She's also aiming to sue him for tens of millions of dollars. Now, Woods has filed documents in which he fired back at the claims.
What Exactly Is Erica Herman Arguing In Her Case Against Tiger Woods?
Erica Herman reportedly began dating the five-time Masters Tournament winner in 2017, before they broke up sometime in 2022. She claims that the star made her sign the supposed NDA in August 2017, according to TMZ. In the documents Herman filed, she claims that a private trust run by her former beau is attempting to prevent her from sharing details about their relationship. She's specifically attempting to make her case with the help of the Speak Out Act. Effective as of December 2022, the law prevents the enforcement of NDAs when sexual harassment or assault is involved.
Erica Herman – the former manager of her boyfriend's restaurant, The Woods – is also suing the sports icon for $30 million. In the suit, she claimed that she performed "valuable services" for Tiger Woods on the condition that she was able to live in their Hobe Sound, Florida home rent free. While she says none of this was put in writing, Herman also states that she and her man had an "oral tenancy agreement." Said deal supposedly was to be valid for up to five years after a theoretical split. On top of this, she also alleges that after Woods sent her on a "short vacation," she returned to find that she'd been "locked out."
TMZ further suggests that the plaintiff (who allegedly broke up with the hall of famer around October 2022) is anxious to give her account of events. Whether a judge decides to strike down the agreement and grant her wish remains to be seen. However, what seems evident at the moment is that her ex is not pleased with the legal moves she's made thus far.
How Tiger Woods Reacted To His Former Girlfriend's Legal Filing
Tiger Woods filed his own documents just recently and, in them, he referred to his former significant other as a "a jilted ex-girlfriend," per TMZ. His contention is that the Speak Out Act cannot be invoked because he has not been accused of sexual assault in any of his ex's formal legal documents. In order to make his point, he pointed to her multi-million dollar lawsuit, in which he says she checked "No" when asked if the case involves sexual abuse allegations. He also said this:
All in all, the former EA Sports collaborator believes Erica Hernan is aiming to publicly litigate her claims in order to get past the requirements of the deal. With that, he wants a court in Florida to uphold the arbitration provisions set forth by the NDA and require Herman to abide by them.
This is only one of several legal situations that Tiger Woods has found himself in over the past several years. In 2017, Woods was arrested on a DUI charge, after which his mugshot notoriously went viral. Woods eventually sought out professional help with managing his medications. Both he and Erica Herman also got into another legal situation in 2019 when they were served a wrongful death suit. Said lawsuit came from the parents of a bartender at The Woods, who was allegedly over served alcohol before leaving the establishment and getting into a fatal car crash. The case against Woods and Herman was eventually dropped.
As of this writing, Tiger Woods' former girlfriend has not responded to his rebuttal. Chances are that all of the information that's been shared by both sides so far will be analyzed by a judge sooner rather than later.
Your Daily Blend of Entertainment News
Covering superheroes, sci-fi, comedy, and almost anything else in film and TV. I eat more pizza than the Teenage Mutant Ninja Turtles.