Tiger Woods Says He Is Getting Professional Help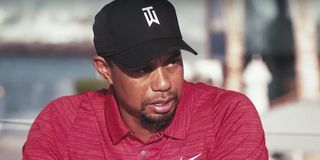 This year has been a difficult one for Tiger Woods. The 41-year-old golf legend has been recovering from surgeries and is facing legal troubles after police arrested him on suspicion of driving under the influence (DUI). Now Woods has posted a statement to update fans and followers nearly a month after that incident. Apparently, he has sought "professional help" to assist him with his medications in the wake of the arrest. Woods wrote,
It was heartening to see the professional golfer thank not only the fans but also his golf colleagues for supporting him during the difficult time. Since news of Woods' arrest, many fans and friends have sent encouraging messages to the golf star, wished him well in his recovery from back surgery, and expressed hopes to see him return to professional golf. In fact, Tiger Woods' post received mostly positive comments when he shared it on Twitter.
However, it might be a long time before Tiger Woods returns to the sport that made him famous. In winter, back problems forced Woods to quit the Dubai Desert Classic and cut short a brief career comeback after an injury-related absence of 15 months. Then Woods underwent a series of surgeries. In fact, he has had four since April.
In May, Woods landed in legal trouble when police arrested him in Jupiter, Florida on suspicion of DUI. The 14-time major championship winner later took to social media to clarify he had not been drinking before the arrest; rather, he had taken his prescription pain medication earlier in the day.
The news of the arrest resembles troubles Tiger Woods faced in 2009 when police arrested him for reckless driving after he drove his car into a tree while he had the sleep aid Ambien in his system. That incident sparked rumors about marital problems with his Elin Nordegren, Woods' wife at the time. Eventually, Woods admitted to and apologized for having had extramarital affairs.
Many sponsors dropped Woods after that incident. However, he worked hard to get back in the good graces of his fans, and last year he seemed poised for a comeback; that is, until the back problems started up again and prevented him from returning to his glory days.
The last time Woods won a tournament was in 2013, and as for the Majors, he has not had a win since 2008. It would be great to see him make a full recovery and move forward in a positive direction, whether or not that direction includes a career comeback. Hopefully, Woods can get out of the tabloids and get back on track with help.
Your Daily Blend of Entertainment News
Your Daily Blend of Entertainment News
Thank you for signing up to CinemaBlend. You will receive a verification email shortly.
There was a problem. Please refresh the page and try again.