7 Different Directions The Bloodline Angle Could Take On The Road To WrestleMania
There are a lot of options on the table.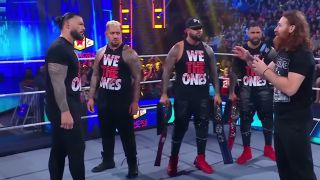 (Image credit: WWE)
If there is one thing fans of professional wrestling love to do more than complaining online about their favorite wrestlers not getting the push they deserve, it has to be fantasy-booking major angles and trying to predict how things will shake out at events like 2023 WrestleMania. And with the 39th annual "Showcase of the Immortals" less than two months away, now seems like the perfect time to break down how things could possibly go for WWE's hottest stable and most engaging angle in years, if not ever: The Bloodline.
Over the course of the past few months, the once unstoppable faction consisting of WWE Universal Champion Roman Reigns, Tag Team Champions The Uso, Solo Sikoh, manager Paul Heyman, and "Honorary Uce" Sami Zayn has started to show cracks in its armor. This was especially true at the stellar 2023 Royal Rumble, where Zayn turned on the "Tribal Chief" and was subsequently beaten down while Jey Uso appeared to leave his brothers and cousin in the ring.
Taking all of that into consideration, here are seven different directions The Bloodline angle could take on the Road to WrestleMania.
Sami Zayn And Kevin Owens Face The Usos At Elimination Chamber
One of the options that could play out for the engaging Bloodline angle is one that would see Sami Zayn and Kevin Owens team up to face The Usos at the Elimination Chamber later in February. There's a myriad of reasons why this route makes a lot of sense for the angle, both in the short term and long haul on the Road to WrestleMania.
First, Zayn and Owens could get revenge against The Bloodline for their actions at the Royal Rumble in a tag match that has been something wrestling fans have been wanting for a long time. Second, this year's Elimination Chamber is being held in Montreal, Quebec, which is essentially Zayn and Owens' backyard (imagine that babyface pop). And third, Jey Uso could further distance himself from his brother and The Bloodline in the same building where the infamous "Montreal Screwjob" went down more than 25 years ago. This leads to the next option…
Jey Uso And Jimmy Uso Meet At WrestleMania
Brother-versus-brother matches have a long history at WrestleMania, with Bret and Owen Hart putting on a clinic in 1994, and then Matt and Jeff Hardy facing off in an Extreme Rules match at the show's 25th Anniversary in 2009. This one pretty much writes itself when it comes to the Usos, as their struggles with their cousin, Roman Reigns, was a large part of the stable's earliest days.
Unlike the Hart v. Hart curtain jerker at WrestleMania 10, which was more based on a sibling rivalry and pride, there is so much emotion with The Usos. For as long as they've been around, which is more than a decade at this point, they've always been a team and have always had each other's back, no matter if they were fan-favorite babyfaces or cutthroat heels. This evenly-matched bout could not only easily become one of the best sibling matches in the history of the event, but also one of the most emotionally grueling across the board.
Sami Zayn Challenges Roman Reigns At WrestleMania
Though Cody Rhodes will be facing off against Roman Reigns at WrestleMania 39 after winning the 2023 Men's Royal Rumble match, I'm still not convinced the "Head of the Table" won't be wrestling Sami Zayn at the "Granddaddy of Them All" come April. We've seen championship matches go through major changes between the Royal Rumble and WrestleMania in the past, and that could very well happen here.
There could be some kind of situation where Reigns is forced to defend the Universal Championship on one night of Mania and the WWE Championship the second night, which would allow for both Rhodes and Zayn to get a chance to dethrone the longtime champion without scooping each other's heat. And with Zayn's falling out with The Bloodline being the hottest thing going in WWE right now, the angle needs to play out on the biggest stage.
Jey Uso Finally Steps Up To Roman Reigns
Though Sami Zayn has been Roman Reigns' latest target within The Bloodline the past month or so, let's not forget that all of this got started more than two years ago when the then-recently crowned Universal Champion used Jey Uso as his punching bag, physically, emotionally, and psychologically. Jey's decision to finally walk out on his family at the conclusion of the Royal Rumble main event match could be the first step in his process of freeing himself from the grasp of his cousin.
The beaten down younger cousin rising up and taking on the leader of what's essentially a cult at this point, could become an instant classic, especially if you take into consideration their series of emotionally and physically grueling matches in late 2020, where Reigns broke Uso to his core.
The Bloodline Implodes And Everyone Goes Their Separate Ways
Another possibility is that The Bloodline angle finally comes to an end with the group officially disbanding and going its separate ways. Roman Reigns, who has essentially carried the company on his back since late 2020, is more than deserving of an extended break (and maybe a Hollywood run). The Usos, if they end up facing one another at WrestleMania, could attempt to repair their relationship and return as a great fan-favorite team again. Solo Sikoh has had a promising run and could use a solo run as a silent but deadly force (maybe with Paul Heyman as his mouthpiece). And, there's no doubt that Zayn will come out of this situation as one of the company's biggest babyfaces, one that's on the level of late '90s Stone Cold Steve Austin, 2013-2014 Daniel Bryan, and 2018-2019 Becky Lynch.
Other Members Of The Anoaʻi Family Are Brought In To Choose Sides
But, there's also the possibility that other members of the expansive Anoa'i family wrestling dynasty could be brought in and forced to choose sides within the splintering Bloodline. There are names like Naomi (Jimmy Uso's real-life wife who hopefully comes back soon), their cousin and MLW wrestler, Jacob Fatu, and The Usos' WWE Hall of Famer father, Rikishi, who could all be brought in if the faction makes it through WrestleMania season.
This doesn't even include the outliers of the dynasty, including Dwayne "The Rock" Johnson, who supposedly won't be a part of WrestleMania this year, and his daughter, Ava Raine, who has been coming up in NXT the past year.
A Smaller Yet More Devoted Bloodline Continues Business As Usual
The final possibility is for a smaller, more devoted, and more centralized version of The Bloodline consisting of just Roman Reigns and Solo Sikoh (with Paul Heyman sticking around as manager). Following the 2023 Royal Rumble, the WWE Instagram account shared an exchange between the two where Reigns said, "We're at war now, Solo" as Sikoh nodded his head, which could be a sign of things to come. The idea of an even more brutal duo of Reigns and Solo could be a way for the group's leader to claim even more titles (if they were to challenge for the Tag Team Championship) while also building up the younger member to add to his already impressive resume.
Who knows what will happen to The Bloodline, and the other major storylines, as we continue the Road to WrestleMania, but one thing we do know is that you will need a Peacock Premium subscription to watch Elimination Chamber, WrestleMania 39, and all the other upcoming WWE events for the foreseeable future.
Your Daily Blend of Entertainment News
Philip grew up in Louisiana (not New Orleans) before moving to St. Louis after graduating from Louisiana State University-Shreveport. When he's not writing about movies or television, Philip can be found being chased by his three kids, telling his dogs to stop yelling at the mailman, or yelling about professional wrestling to his wife. If the stars properly align, he will talk about For Love Of The Game being the best baseball movie of all time.