Rumors Are Swirling That Vince McMahon Is Behind The Brock Lesnar Vs Omos Match, And Fans Have So Many Thoughts
Rumors suggest the former CEO is influencing WrestleMania 39.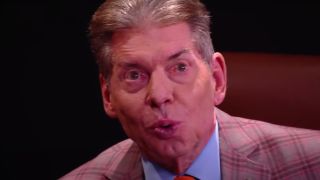 (Image credit: WWE)
Brock Lesnar and Omos will have a match at the WWE's WrestleMania 39, and many in the wrestling world are confused by the booking. It seemed like Lesnar was on a collision course with Bobby Lashley, but after their Elimination Chamber match came to a controversial end, Lashley is likely taking on Bray Wyatt. Many were scratching their heads and wondering how this storyline derailed just before WrestleMania until a rumor surfaced that Vince McMahon was involved. Whether or not the rumors are true remains to be seen, but the internet already has thoughts.
There have been light hints by the WWE's top brass that Vince McMahon might inject himself into the creative side of the wrestling organization after returning to help negotiate a sale, and reliable wrestling insider WrestleVotes now reports it apparently happened. The insider stated that McMahon is the driving force behind the match and "pushed it through":
I'm told the highly anticipated, very compelling (🙃🥸) Brock Lesnar vs Omos WrestleMania matchup was the idea of one specific, powerful person who pushed it through. pic.twitter.com/VpcdEFsLzJMarch 1, 2023
There's a bit of sarcasm in that tweet that echoes a lot of the thoughts of wrestling fans. No one was really asking for Omos and Brock Lesnar to face each other at WrestleMania 39, and nothing about this past year has suggested they'd feud to close out the season. It seems like the match was done just to put two big guys against each other in the ring, which could be the same way to describe similar match bookings that Vince McMahon had a hand in when he was running the creative side of WWE.
The randomness of the match-up, paired with the general lack of fan interest, has people wondering why the WWE would highlight it. Some suggested it's something McMahon personally wanted to see and nothing more:
I always try to defend Vince, I think 75% of the time Vince is worth defending when it comes to creative & talent decisions.But this 'sneaked in' Omos vs Brock match @ WM is VKM when he swings & misses hard at the expense of his own personal taste.It's frustrating as a fan. 😣March 1, 2023
The frustration that some are feeling is understandable, especially considering Omos hasn't been as prominent as he was on the WWE roster when Vince McMahon was still around. WrestleMania 39 will be his first pay-per-view match since he was involved in Cody Rhodes' big win at the 2023 Royal Rumble. Omos was eliminated by Braun Strowman after roughly two and a half minutes in the ring.
Other WWE loyalists aren't focusing so much on the match itself but on the reports that Vince McMahon is booking major matches again for the WWE. For some, it was something they'd seen coming ever since he reportedly voiced his interest in returning to the company:
News today that Vince McMahon reportedly booked Brock vs Omos for WrestleMania.What have I been saying for MONTHS? It's not in his DNA to just walk away and be hands off. I've been saying this since the first day of his"retirement".This is my shocked Pikachu face: pic.twitter.com/hPpF6VOM7rMarch 1, 2023
It has been stated in the past that current head of creative Triple H has run most of his ideas by his father-in-law Vince McMahon since taking over and that he's welcomed suggestions from the chairman. In short, there are some who think that while McMahon might have suggested the match, Triple H pushed it through for him, and the status quo hasn't changed in the way the rumor might suggest:
Vince pitched an idea. been confirmed HHH bounces ideas off Vince. HHH booked the match with a Vince cosign. Brock accepted. Vince is not head of creative. Stop crying and falling for blatant fear mongering 💀 https://t.co/S11vQpBpfWMarch 1, 2023
While this rumor came from a credible source and feels plausible, it's always important to remember that rumors aren't confirmed information. Just like the allegation that Vince McMahon sold the WWE to a Saudi Arabian interest group, perhaps it's best to reserve judgment until the full facts are out. Some are choosing to do that and countering with their own thoughts on who McMahon would book if he was back in full power of the WWE:
If Vince Mcmahon was booking, Brock would be facing Roman Reigns not Omos 😉Just saying !February 28, 2023
I'd like to dispute that above tweet, but after all the Roman Reigns and Brock Lesnar matches I've seen over the years, I can't. At the end of the day, however, we have no idea if Vince McMahon is secretly running the bookings for upcoming WWE events, so we'll just have to sit back and wait for more information as the weeks wind down to WrestleMania.
WrestleMania 39 will stream live on Peacock on Saturday, April 1st, and Sunday, April 2nd. Snag a Peacock Premium subscription ahead of wrestling's biggest nights, and maybe revisit some other classic WrestleMania events while waiting.
Your Daily Blend of Entertainment News
Mick likes good television, but also reality television. He grew up on Star Wars, DC, Marvel, and pro wrestling and loves to discuss and dissect most of it. He's been writing online for over a decade and never dreamed he'd be in the position he is today.