Exclusive Clip: Go Behind The Scenes Of The Disappearance Of Alice Creed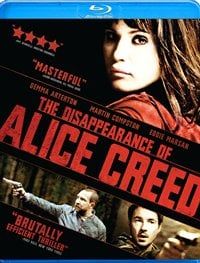 Unless you were in one of the cities where it played in limited release this past summer, you probably haven't seen The Disappearance of Alice Creed. One person who did is our own Perri Nemiroff, who saw it at Tribeca last April and raved about it here. If that doesn't convince you it's worthwhile, you can even check out the opening five minutes of the film right here. That clip will give you the basic setup of the story of Alice Creed (Gemma Arterton), who is kidnapped and held for ransom by two men (Eddie Marsan and Martin Compston). If you think you've got the fortitude to deal with the brutal subject matter, you'll get the chance when Anchor Bay Entertainment brings the film to Blu-ray and DVD November 23rd.
Smaller movies like Alice Creed often get shortchanged when it comes to bonus features, but from the looks of things Anchor Bay is handling this release good and proper. Listing for $34.98 on Blu-ray and $29.97 on DVD, The Disappearance of Alice Creed will include an audio commentary with writer/director J Blakeson, deleted scene and extended scenes with optional Blakeson commentary, outtakes, a trailer, and a storyboard-comparison featurette. We've got an exclusive look at this last feature below, where you can see how the scene where Alice gets the better of one of her captors was originally envisioned, and how it turned out on screen.
Your Daily Blend of Entertainment News