Get Lost In New York With Home Alone 2 On Blu-Ray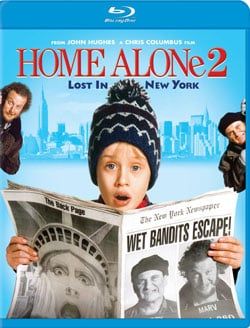 Yes, a movie may look spectacular in Blu-ray hi-def, but you can't ignore the fact that it's going to cost you a pretty penny to get that clarity. If I'm going to drop the extra cash for a BD, the movie better be worth it. Childhood favorites have a special place in everyone's heart, and Home Alone 2: Lost in New York is one of those movies. Not only is it a film that can be enjoyed over and over, but it's one you'll want to share with your children.
Kevin McCallister (Macaulay Culkin) is at it again, but this time, he's on the loose in New York City. When his family boards a plane to Miami, Kevin winds up on another flight bound for the Big Apple. Kevin conveniently has his father's wallet, so he treats himself to a suite at the Plaza Hotel and a shopping spree at Duncan's Toy Chest. It's all fun and games until Kevin runs afoul of both hotel concierge Mr. Hector (Tim Curry) and a pair of old friends – robbers Harry (Joe Pesci) and Marv (Daniel Stern). Kevin suddenly realizes life alone in the Big Apple might be tougher than he thought.
I know the most noteworthy feature of a BD is the picture quality, but they couldn't scrounge together any bonus material at all? They couldn't come up with a blooper reel, shoot some new interviews with the cast, or even record any commentary? The Home Alone BD comes with an impressive array of special features, so I'm hoping the full details were just omitted from this press release. Perhaps the specs haven't been finalized.
Twentieth Century Fox Home Entertainment will bring you Kevin's New York adventures in hi-def on October 6th for $34.99.
Staff Writer for CinemaBlend.
Your Daily Blend of Entertainment News
Thank you for signing up to CinemaBlend. You will receive a verification email shortly.
There was a problem. Please refresh the page and try again.