Insane Site Offers Free Movie And TV Downloads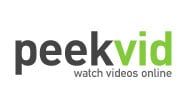 Someone sent me a link to a site called Peekvid earlier this week, but their server was so overloaded I never could get it to load well enough to figure out what it was. There's a reason they've been so busy. Peekvid is the most awesome site ever.
I'm not sure how they do it, and it can't possibly be legal, but Peekvid has thousand and thousands of new movies, television shows, and cartoons available for viewing on their site. In some cases it's only in the form of clips, but in many instance they have full television episodes and new movies available for viewing online, any time, for absolutely free.
There are of course a few big companies starting to offer television shows and movies for download. But in all cases they're charging a fee, and worse, they usually have a pretty limited selection. Sure you can download episodes of Battlestar Galactica off iTunes if you're willing to pay, or you can buy the box sets, but can you get Farscape or Firefly, and for absolutely no charge? How about free episodes of Grey's Anatomy? Heroes?
Or maybe you want to run out and buy a movie. Why not just watch A Scanner Darkly on your computer for free, before deciding if you want to own it? Worried about global warming? Click and watch An Inconvenient Truth.
Click over there while you can, because the people involved are likely to end up arrested and thrown in Chinese prison any minute. They boast 20,000 videos online, that could mean 20,000 individual lawsuits from the MPAA. Or has someone figured out a way to do this legally? It's not like they're hiding. Check it out for yourself here. Legal, or soon to be eliminated?
Your Daily Blend of Entertainment News
Thank you for signing up to CinemaBlend. You will receive a verification email shortly.
There was a problem. Please refresh the page and try again.